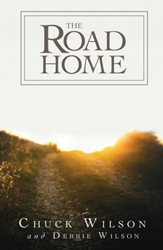 This book relates the cancer experience without blinking at or sugar-coating the harsh realities
CHESAPEAKE, Va. (PRWEB) January 19, 2018
Within the pages of Chuck Wilson's new book, The Road Home, readers will journey along Debbie Wilson's twenty-eight-year-long battle with cancer. As the longest term survivor of adrenal cancer and a record number of primary cancers, Debbie faced her physical, emotional, and spiritual challenges with astonishing hope. In a raw and transparent account of her experience, The Road Home finds humor in the miserable and light in the darkness. In 1987, Debbie Wilson was first diagnosed with cancer. In 2003, informed for the fourth time to get her affairs in order, she entered a cancer study at the National Institutes of Health. Her long-term survival made her a rock star in the oncology world and an inspiration to all who heard her story.
"This book relates the cancer experience without blinking at or sugar-coating the harsh realities," states Chuck Wilson. "Told with humor, this story demonstrates that there is reason for hope, even when your doctor informs you to get your affairs in order."
About the Author
Chuck Wilson grew up in rural upstate New York with the lifelong dream of becoming a writer. He earned a BA in English and Writing and an MBA, as well as served in the Navy. Since then he has been engaged in a variety of other entrepreneurial endeavors. The Road Home is his debut novel. For more information about the author visit http://www.chuckwilsonwrites.com or contact him at Chuck(at)bluewaav(dot)com.