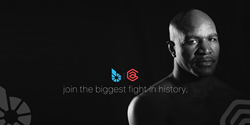 I am really excited about this. The more I can do, the better. Cryptocurrency seems to be a good way to help the causes that I care about.
DALLAS (PRWEB) January 17, 2018
Holyfield is teaming up with AriseBank, the first decentralized cryptocurrency bank and blockchain development company Cryptonomex, to raise money for disaster preparedness. Using BitShares, one of the most advanced blockchain platforms in the world, they will accelerate the slow process of recovery in future disasters like the recent hurricane and wildfire storms.
In 2017, super-storms devastated Texas, Florida, Puerto Rico, the Virgin Islands, California and dozens of other communities in the Caribbean and the Gulf States. These disasters have left millions without the help they need.
The money required to restore the Houston Florida, Puerto Rico, the U.S. Virgin Islands and other areas, can't be raised fast enough if you're homeless or forced to live with relatives because your family's house was one of the one million homes destroyed. Holyfield wants to help raise the funds needed through his charity endowment to help these people recover from these type of disasters in the future.
This is not your usual celebrity endorsement. This is a long-lasting strategic partnership. The world sees "digital currency" as a unique solution to the biggest challenges presented by these national tragedies.
Holyfield plans on using cryptocurrency to fund humanitarian disaster preparedness. Together we will raise a million dollars for disaster-related causes and then grow it to a billion-dollar endowment using the Bitshares Endowment model created by the Billion Hero Campaign. Holyfield's endowment, as well as the original Billion Hero Endowment are hosted on BillionHeroCampaign.com.
"I am really excited about this. The more I can do, the better. Cryptocurrency seems to be a good way to help the causes that I care about." ~Evander Holyfield
The team has developed a way to create digital currency endowments that leverage the growth of cryptocurrency using the BitShares platform. One dollar can become hundreds of dollars paid out to victims over several years. One thousand dollars can become hundreds of thousands and so on. As BitShares value grows the donations grow with it.
There are a number of companies like AriseBank, building on the BitShares platform and the price is starting to rise. As BitShares becomes more and more popular, the endowment will use that growth to solve some of the world's biggest problems.
Announcements of the launch of "The Holyfield BitShares Endowment for Global Disaster Preparedness" will be coming soon.