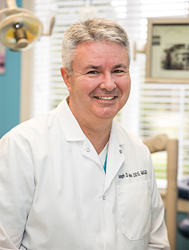 Sedation dentistry is very effective for patients with dental anxiety; it relaxes them and they can pretty much sleep in the chair.
WARREN, Ohio (PRWEB) January 17, 2018
Dr. Joseph Bedich educates patients on the benefits of sedation dentistry treatment and now welcomes new Warren, OH patients with or without a referral for custom sedation treatment. When Dr. Joseph Bedich talks to patients about dental implants, he frequently discusses sedation dentistry. This practice helps him deliver phenomenal results for patients at The Center for Progressive Dentistry who may have varying degrees of dental anxiety. As a result, he has earned a reputation for his sedation dentistry in Warren, OH, and the Trumbull county area, garnering praise from people who once thought it would be too challenging to experience the benefit of dental implants.
Sedation dentistry utilizes medications to calm patients who would otherwise find it difficult, if not impossible, to undergo even non-invasive dental procedures including hygiene cleanings, the placement of dental implants, and full mouth reconstruction solutions. "Sedation dentistry is very effective for patients with dental anxiety; it relaxes them and they can pretty much sleep in the chair," notes Dr. Bedich. Though many dental providers offer a few types of sedation, Dr. Bedich covers the full range of sedation possibilities.
Deep sedation is best for those who should be unconscious during dental work. This is administered at Dr. Bedich's office by a certified dental anesthesiologist who delivers care safely. Another type of sedation dentistry is intravenous (IV) conscious sedation. Medicine is delivered through an IV, and although patients are not unconscious, they have a sensation of drifting through time. However, they can still respond to requests by the dentist.
Oral sedation and nitrous oxide are popular, lower-level sedation treatments. With oral sedation, the patient is given a pill upon entering the office. As soon as the pill takes effect, all anxiety is reduced and a feeling of relaxation comes over the individual. Nitrous oxide (commonly referred to by many as "laughing" gas) creates a similarly pleasant sensation.
Finally, topical and local anesthetics provide numbing for procedures that are minimally invasive or non-invasive, but which still require some kind of desensitization for the patient's comfort.
Those interested in scheduling time to meet with Dr. Bedich and his team are encouraged to mention their interest in sedation dentistry in Warren, OH when they call 330-615-1598. More information on patients' sedation options and dental implants treatment can be found on his website at http://www.adazzlingsmile.com.
About the Doctor
Dr. Joseph D. Bedich is a general dentist in Cortland, OH offering personalized dental care to patients. Dr. Bedich understands the importance of learning the most cutting-edge techniques, which is why he has taken over 2,500 hours of continuing education in a wide variety of services including sedation, implant dentistry, sleep apnea, cosmetic dentistry and head and neck pain management. To learn more about Dr. Bedich or the services he offers, visit his website at http://www.adazzlingsmile.com or call his office at 330-615-1598 to schedule an appointment.