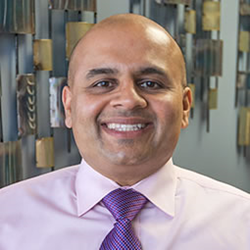 Research has shown that using the laser with periodontal therapy is more effective.
SCHAUMBURG, Ill. (PRWEB) January 17, 2018
Leading dentist, Dr. Jig Patel, now offers appointments with or without a referral for those who suffer from inflammation, and painful, bleeding gums as a result of periodontal disease. Because he understands the sensitivity of the periodontal tissues, he offers scaling and root planing paired with laser dentistry to treat gum disease in Schaumburg, IL. By applying laser dentistry treatment after scaling and root planing, Dr. Patel and his team are able to avoid incisions, leave healthy tissue intact and offer results with less pain and a healing process that is much faster.
Nearly half of adult Americans have some degree of periodontitis, but symptoms are not always apparent in the first stages of the disease. Individuals may first notice a problem when gums become sensitive or bleed during oral hygiene routines. This indicates plaque has hardened and bacteria developed on the teeth roots below the gum line and is irritating the gums. At this point, people should seek treatment from a dentist to have tartar removed and bacteria cleared away. Otherwise, they risk serious damage as the disease progresses. Infection spreads to the teeth and often causes tooth loss. Oral bacteria can also enter the bloodstream through the wounds in the gums, and scientists have discovered a link between periodontitis and systemic conditions such as heart disease, diabetes and stroke.
Although the consequences can be severe, some avoid making an appointment for treatment of gum disease in Schaumburg, IL because of dental anxiety. Dr. Patel has adopted the latest in advanced laser technology so that his patients can receive effective treatment, with shorter recovery times. First, Dr. Patel offers scaling and root planing therapy, a non-surgical gum disease treatment that removes plaque and tarter below the gum line. Next, an advanced dental laser is used to reduce gingival bleeding and inflammation, pocket depths and bacterial populations while also leading to faster healing and less pain after the procedure.
"Research has shown that using the laser with periodontal therapy is more effective and evident up to six weeks after therapy," says Amanda Hardin, a respected registered dental hygienist at Schaumburg Dental Studio.
Anyone interested in minimally invasive laser gum disease treatment in Schaumburg, IL, can call Dr. Patel's office at 847-348-8673 to make an appointment. More information about the benefits of laser gum surgery is available at http://www.schaumburgdentalstudio.com.
About the Doctor
Schaumburg Dental Studio is a general and cosmetic dental practice offering personalized dental care to patients in Schaumburg, IL since 2004. With nearly 20 years of experience, Dr. Jig Patel provides cutting-edge care including dental implants, laser gum disease therapy, orthodontics and cosmetic dentistry treatments. Dedicated to his patients, he frequently participates in community charities including the Dentistry from the Heart Program each year. A patient-centered office, the entire team at Schaumburg Dental Studio strives to offer leading-edge treatments using the latest technology while also making them affordable for their community. To learn more about Dr. Patel, Schaumburg Dental Studio or the services they offer visit their website at http://www.SchaumburgDentalStudio.com or call 847-348-8673 to schedule a custom consultation.