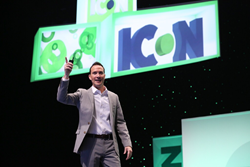 Hiring the next level of talent is crucial to JJUMPP's growth path. We know that Jeff will not only perform in numbers but will also multiply every team member around him.
LEHI, Utah (PRWEB) January 18, 2018
JJUMPP Software announced today that Jeff Mask will join JJUMPP Software in their Lehi, Utah headquarters, officially starting February 12. Mask is the first new executive hired outside of the core founding team adding stronger leadership to its sales and business development teams. His inclusion marks the beginning of a new period in JJUMPP's business development, specifically emphasizing customer success and strategic partnerships.
"Hiring the next level of talent is crucial to JJUMPP's growth path," says JJUMPP CEO Chad Ingram. "But more important than experience is the need for finding an executive who cares first about the people. We know that Jeff will not only perform in numbers but will also multiply every team member around him."
Mask brings a wealth of experience in working with small business owners. After excelling on business development teams at About.com and Pfizer, he joined Infusionsoft, eventually becoming the VP of Business Development and later VP of Customer Success. In his 10 plus years at Infusionsoft, Jeff played a key role in growing the company from 2 million to over 100 million in revenue and 125 Million in funding. Mask headed up various growth functions of the business wearing over a dozen hats from Direct Sales to Channel Partners, and M&A work to Customer Success. He helped transform Infusionsoft into one of the best names for small business sales & marketing CRMs. It's this kind of growth and potential he sees in JJUMPP's future.
"I'm excited to leverage the skills, connections, and passion I have developed the past 10 years at Infusionsoft and apply them at JJUMPP to follow the same trajectory," says Mask.
In addition to the last two decades working as a growth and small business expert, Jeff recently completed an MBA at the Thunderbird School of Global Management, a top-2 program in the world in International Business. It's this combination of hands-on, growth-centered leadership at Infusionsoft and his formal MBA training that Mask will bring to JJUMPP.
Mask's background in small business makes him uniquely qualified to understand the needs of business owners. It wasn't just a familiar role that attracted him to the job. His biggest attraction to JJUMPP was a "culture that fit like a glove." The mission to empower small business owners and a set of core values that revolve around grit, integrity, and building leaders caught his attention. It was also JJUMPP's vision for global growth and innovation that solidified his decision to join the company.
Jeff and his team will spearhead growing the software's user base both organically and through a direct sales model as well as through strategic partnerships. The team will focus on ensuring customer success and dramatically increasing customer referrals and reviews.
About JJUMPP
JJUMPP is the leading online presence management (OPM) platform for small businesses. Through JJUMPP's centralized online tools like reputation and social media management, business owners can significantly impact customer decisions and ultimately grow their business. JJUMPP is a self-funded software company headquartered in Lehi, Utah with offices in Washington, Arizona, and California.