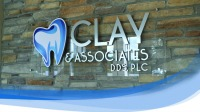 "This is just another progressive dental service that all of our dentists (Dr. John Clay, Dr. Nan Bates and Dr. Shaun O'Neill) practicing at Clay & Associates DDS, PLC can now provide for our patients." Dr. Shaun O'Neill
FORT DODGE, Iowa (PRWEB) February 06, 2018
Missing teeth can make individuals feel self-conscious when eating, talking or smiling, and create oral health problems as well. Today, a dental implant procedure can give patients a replacement tooth that looks, feels and functions as naturally as the original. Dental implants are artificial tooth roots inserted into the jaw to replace missing teeth.
Today, implants with attached crowns are the preferred method for treating tooth loss because they function the same as natural teeth and help preserve the jaw structure by preventing atrophy from bone loss. Bridgework and dentures address the cosmetic problem of missing teeth but do not prevent bone loss. Permanent implants maintain proper chewing function and exert appropriate, natural forces on the jawbone to keep it functional and healthy.
Dr. Shaun O'Neill has completed an extensive lecture and hands on course regiment in dental implants through the Implant Seminars and is now also providing this service at Clay & Associates DDS, PLC located in Fort Dodge, Iowa.
The Dental Implant Continuum course provides high level dentists the education and training to provide the implant services at their dental clinic. The course is organized by Dr. Arun K. Garg, a renowned dental surgeon and educator and is an AGD-accredited program that provides dentists with the expertise in placing dental implants. From the biology of osseointegration and a review of graft materials, to suturing and soft tissue management, the Continuum program provides the comprehensive continuing education and experience for the service.
"Our patients are opting for implants frequently as they are preferred over bridges and dentures," states Dr. Shaun O'Neill. "This is just another progressive dental service that all of our dentists (Dr. John Clay, Dr. Nan Bates and Dr. Shaun O'Neill) practicing at Clay & Associates DDS, PLC can now provide for our patients."
Born in southern Wisconsin, Dr. Shaun O'Neill has spent the last decade in Iowa attending both Luther College and the University of Iowa College of Dentistry. For the last six months, Dr. O'Neill has been working to integrate himself into the Fort Dodge community by being a clinical instructor at the dental hygiene program at Iowa Central Community College, becoming a member of the Fort Dodge Young Professionals, and looking to improve dental treatment in the Emergency Rooms around the area. Dr. O'Neill continues to be active in the American Dental Assoiation serving on board appointed councils and speaking events around the country.
Clay and Associates DDS, PLC is located at 1905 North 15th Street. Patients can contact the dental clinic at 515-573-7601, email to info(at)clayassociatesdds(dot)com and online at http://www.clayassociatesdds.com. Please follow them on Facebook, Twitter and LinkedIn. #ThisIsFortDodge