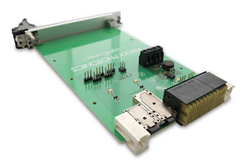 The LightCONEX 12+12 represents a remarkable feat of engineering that illustrates once more Reflex's mastery of advanced optical design. This module offers market leading I/O density and satisfies the most stringent SWaP requirements with a minuscule PCB footprint and volume.
(PRWEB) January 18, 2018
LightCONEX is a backplane interconnect solution that integrates a multilane optical transceiver into a small, rugged board-edge plug-in module connector to enable easy circuit card replacement and simplify system upgrades. This connector reduces system cost and complexity as it requires no onboard optical cables handling or cable routing.
The LightCONEX solution frees up board space by integrating the optical transceiver into the board edge connector. The backplane connector, also part of the LightCONEX solution, has a spring-loaded mechanism ensuring optimal optical mating meeting VITA 66.0 requirements. The rugged construction of these connectors ensures error free data transmission under severe shock, vibration, and temperature extremes.
The LightCONEX finds applications in optical backplanes, routers, switches and VPX systems, like those deployed in high-performance embedded computing systems for civilian and military command and control monitoring (C4ISR) systems.