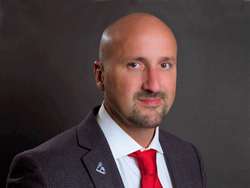 "Our mission is to bring the innovation and creative thinking from Silicon Valley and other entrepreneurial hotbeds to the federal government, and Giles' leadership has been critical to our success in that endeavor." – David Mysona, CEO, Blackstone Technology Group
ARLINGTON, Va. (PRWEB) January 18, 2018
San Francisco based Blackstone Technology Group has appointed Giles Kesteloot President of Blackstone Federal, the company's government technology consulting services practice. Giles steps into this new role from his previous position as Managing Director of the practice, where he led the effort to make Blackstone Federal the beltway's premier engineering and transformation agency. The promotion to President recognizes Giles for his vision and accomplishments in building Blackstone's preeminent federal practice.
"Coming off a record year, Giles' leadership and creativity within the company and the federal marketplace has been a key driver in making Blackstone Federal a unique and competitive force," said David Mysona, CEO of Blackstone Technology Group. "Our mission is to bring the innovation and creative thinking from Silicon Valley and other entrepreneurial hotbeds to the federal government, and Giles' leadership has been critical to our success in that endeavor."
Giles joined Blackstone in 2009 and steadily rose up in the organization by challenging the beltway's status quo and developing truly innovative ways to serve federal clients. "I couldn't be more proud of what the Blackstone family accomplished in 2017," said Mr. Kesteloot. "We not only achieved our business goals, but more importantly, we grew our people, helped our clients win, and realized a profound effect on our community through outreach, diversity, and charity initiatives. With the continued support of our creative partners and talented clients, we look forward to an exciting 2018 and beyond."
Discover Blackstone Federal at https://BlackstoneFederal.com/
Launched in Arlington, Virginia in 2002, Blackstone Federal is the beltway's premier engineering, transformation, and creative design agency. Rooted in a common culture, and galvanized by a common vision, Blackstone Federal employees are bridging the gap between the beltway and Silicon Valley to create a company unlike any in DC.