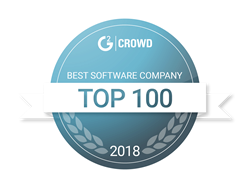 "We created Bonusly to foster authentic, meaningful feedback and praise in the workplace, which substantially improves daily work life. This recognition from G2 Crowd proves we are on the right path, since it's based on feedback directly from our valued customers." Raphael Crawford-Marks, CEO
BOULDER, Colo. (PRWEB) January 18, 2018
Today Bonusly, the fun, personal recognition and rewards program that enriches your company culture and improves employee engagement, announced it has been honored on G2 Crowd's Best Software Companies 2018 list, which recognizes the top 100 business software companies according to customer feedback, based on G2 Crowd's verified user reviews from 2017. Bonusly ranked no. 60 on the Top 100 list, behind Slack, Shopify and Google, and ranked no. 2 on the Top 50 Small Business list.
"We created Bonusly to foster authentic, meaningful feedback and praise in the workplace, which substantially improves daily work life," said Raphael Crawford-Marks, Co-Founder and CEO of Bonusly. "This recognition from G2 Crowd proves we are on the right path, since it's based on feedback directly from our valued customers."
On G2 Crowd, business software users write detailed reviews on their experiences with the software tools they use professionally. In order to qualify and be eligible for the Best Software Companies 2018, each company had to receive a minimum of 100 reviews across all of their products on G2 Crowd between January 7, 2017 and January 7, 2018. Companies were scored based on an algorithm using many of the same factors included in G2 Crowd's Grid®, but weighted differently to reflect vendors' success over the past year.
G2 Crowd also segmented the Best Software Companies 2018 into three lists for small-business, mid-market, and enterprise software companies. Bonusly was featured as no. 2 on the Best Small-Business Software Companies 2018. Additionally, Bonusly was ranked no. 1 in the Colorado Tech Scene by G2 Crowd, for playing a major role in the Denver area's bustling tech environment. The state of the Colorado tech report recognized Bonusly and 23 other Denver and Boulder headquartered SaaS and service companies as the leaders of the two cities' tech scene. Overall the report covered over 60 Colorado companies.
To try Bonusly for free, visit https://bonus.ly/users/sign_up.
About Bonusly
Founded in 2012, Bonusly enriches your company culture and improves employee engagement through a fun, personal recognition and rewards program. Bonusly helps HR, team leads, and small business owners at over 1,000 organizations worldwide create engaging environments by putting recognition in the hands of those closest to the work. With an extensive digital rewards catalog, Bonusly minimizes the administration time needed to turn recognition into tangible perks. Bonusly is headquartered in Boulder, CO and backed by FirstMark Capital, Bloomberg Beta and others. Visit us at https://bonus.ly/.
About G2 Crowd, Inc.
G2 Crowd, the world's leading business solution review platform, leverages more than 290,000 user reviews to drive better purchasing decisions. Business professionals, buyers, investors, and analysts use the site to compare and select the best software and services based on peer reviews and synthesized social data. Every month, nearly one million people visit G2 Crowd's site to gain unique insights. G2 Crowd aims to bring authenticity and transparency to the business marketplace. For more information, go to G2Crowd.com.