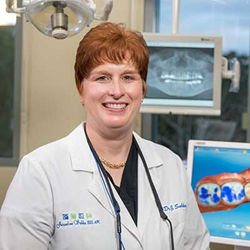 THOUSAND OAKS, Calif. (PRWEB) January 18, 2018
Well-respected dentist in Thousand Oaks, CA, Dr. Jacqueline Subka, has proudly added a new offer specifically for first-time patients. The offer includes complimentary x-rays and a thorough consultation, a package valued at several hundred dollars. Dr. Subka sees this special announcement to combat avoidance of going to the dentist and the problems that can come from not seeking regular dental treatment.
According to the American Dental Association (ADA), only approximately one-third of the American adult population goes to the dentist twice yearly as recommended. Although the remaining adults' reasons for declining dental care vary, they all run the risk of developing common healthy conditions including cavities, gum recession and gum disease.
Gum disease, also known as periodontal disease, occurs when a certain type of bacteria builds up in the mouth between the teeth and the gums. Without professional intervention, the bacteria continue to breed and break down soft and hard tissues. The first stage of gum disease, gingivitis, is characterized by bleeding gums, bad breath (halitosis), red gums, and swollen gums. If caught during the gingivitis stage, gum disease is curable.
The second and third stages of this medical condition are varying degrees of periodontitis, where destruction of the gingiva, tooth root, and jawbone can lead to tooth loss. Patients experiencing periodontitis can manage the disease's progression with specialized treatments. Dr. Subka often offers minimally invasive laser dentistry to treat gum disease and help patients keep the periodontal pockets sanitized and free from excessive bacteria.
In addition to periodontal disease treatment and management, as well as general dentistry care, Dr. Subka offers customized dental implants, gum recession, and cosmetic dentistry treatments. Individuals interested in taking advantage of Dr. Subka's special offer are invited to call 805-373-1919 and set up an appointment at her comfortable, state-of-the-art, judgment-free office.
About the Doctor
Dr. Jacqueline Subka is general dentist offering personalized dental care for patients in Thousand Oaks, CA since 1999. Dr. Subka received her dental degree from the prestigious University of Southern California School of Dentistry in Los Angeles. Dr. Subka practices gentle dentistry and incorporates state-of-the-art techniques to provide leading, minimally invasive care. She and her team are committed to continuing education and strive to provide high-quality, personalized dental care to each patient. To learn more about Dr. Subka and the dental services she provides, visit her website at http://www.subkadds.com or call 805-373-1919.