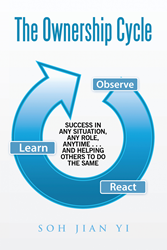 SINGAPORE (PRWEB) January 22, 2018
A Singapore-based pediatrician and allergy specialist has published his revolutionary approach to fostering a successful and joyful life by consciously taking ownership of oneself while also allowing others to take ownership of their own actions, choices and beliefs.
In "The Ownership Cycle," author Soh Jian Yi explains how human beings subconsciously engage in either a pattern of Ownership of Reality or a pattern of No-Ownership of Reality by way of the self-perpetuating cycle of observation, reaction and learning. Through this, Dr. Soh hopes to guide readers through the process of shifting from a negative, denial-fueled attitude to one of positivity and gratitude.
"This book describes how these cycles affect anyone and everyone we know, see and hear about in life and how each of us can choose to enter the healthy cycle consciously and do the same for our loved ones, friends and colleagues," Dr. Soh said.
Whether they are adults interested in personal or professional development or parents seeking a fresh approach to motivating their teens, "The Ownership Cycle" can help readers of all ages and backgrounds to ground and center themselves in an increasingly complex and social media-connected world and, ultimately, live a fulfilling life.
"The Ownership Cycle"
By Soh Jian Yi
ISBN: 978-1-5437-4184-1 (hardback); 978-1-5437-4183-4 (paperback); 978-1-5437-4185-8 (electronic)
Available at Barnes & Noble and Amazon
About the author
Soh Jian Yi is a pediatrician and allergy specialist for the National University Hospital of Singapore and an assistant professor at the Yong Loo Lin School of Medicine. Dr. Soh runs a clinical immunotherapy program for the treatment of food allergies, and in his spare time, he enjoys writing articles on health and doctor-patient issues and volunteering with TOUCH Community Services. He currently resides in Singapore. To learn more, please visit http://www.theownershipcycle.com.
###
Review Copies & Interview Requests:
LAVIDGE – Phoenix
Danielle Grobmeier
480-648-7557
dgrobmeier(at)lavidge.com
General Inquiries:
LAVIDGE – Phoenix
Maggie Driver
480-998-2600 x 584
mdriver(at)lavidge.com