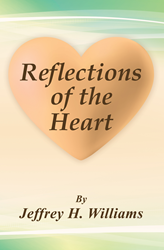 MITCHELLVILLE, Md. (PRWEB) January 22, 2018
A Maryland-based veteran and award-winning writer has published an inspirational collection of poetry that empowers readers to access the crucial powers of faith, hope and love and encourages them to nourish their relationship with themselves and others through self-reflection and spiritual growth.
In "Reflections of the Heart," author Jeffrey H. Williams puts forth an energizing journey through life's highs and lows in the form of intuitive verses based on raw, real-life emotions and experiences. Tackling relatable topics like love, aging and death, Williams' poems capture the complexity of relationships and celebrate the natural tenacity of the human spirit.
"Through these verses, my desire is to present readers the opportunity to experience the emotional freedom and satisfaction that can occur when we allow faith, hope and love to guide our journey through life," Williams said.
An intimate and easy-to-read exploration of the depths of the soul, "Reflections of the Heart" presents readers with a cathartic exercise in self-discovery and serves as a reminder that no one walks alone.
"Reflections of the Heart"
By Jeffrey H. Williams
ISBN: 978-1-5127-7148-0 (paperback); 978-1-5127-7147-3 (electronic)
Available at the WestBow Press Online Bookstore, Barnes & Noble and Amazon
About the author
Jeffrey H. Williams is a retired officer of the U.S. Air Force and holds a master's degree in business administration. Williams is the author of six poetry books and has received awards for his writing from the International Society of Poets and the United Poets Laureate International. His poem, titled "Mission Accomplished," is on display permanently at the Strategic Air Command and Aerospace Museum in Nebraska. Williams currently resides in Mitchellville, Md. To learn more, please visit http://www.expressionswithinmyheart.com.
Review Copies & Interview Requests:
LAVIDGE – Phoenix
Danielle Grobmeier
480-648-7557
dgrobmeier(at)lavidge(dot)com
General Inquiries:
LAVIDGE – Phoenix
Maggie Driver
480-998-2600 x 584
mdriver(at)lavidge(dot)com