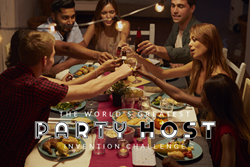 Have an idea but not much more? No problem.
NEW YORK (PRWEB) January 31, 2018
The community-led invention platform Quirky in partnership with entertainment and lifestyle retailer HSN has launched The World's Greatest Party Host Invention Challenge on Quirky.com. Quirky and HSN have asked Quirky community members to submit their ideas for game-changing party products as part of the challenge, and will be selecting a winner who will have the opportunity to present live on HSN's Monday evening show American Dreams.
A University of Denver study found that eating dinner with friends has been shown to increase happiness and help alleviate depression, but often the act of planning and hosting can feel overwhelming or stressful. Whether it's a black-tie affair or a backyard BBQ the right products can make all the difference, and so Quirky and HSN have turned to the crowd to reimagine the tools we use to host.
Have an idea but not much more? No problem. "The beauty of Quirky is the community, who all collaborate and contribute to take each other's ideas and turn them into tangible products," says Quirky President Gina Waldhorn. Quirky has already produced several best-selling kitchen and entertaining gadgets including a Ventu, a colander and serving bowl in one, and Mocubo, a cutting board with build in prep storage, so the challenge is a natural progression for the brand.
The winning product or products will be selected in March, and the inventors will have the opportunity to present live on air as part of the HSN American Dreams show, a program designed to tap into the joy and excitement of discovering new entrepreneurs.
The challenge is live and accepting submissions until February 15th, 2018. To submit, go to the World's Greatest Party Host Challenge Page.
About Quirky:
Founded in 2009 with a mission to "make invention accessible," Quirky is the largest collaborative invention community in the world. Quirky brings new products to market by connecting a global community of inventors to established manufacturers. At the nexus of technology-enabled cultural trends like the maker movement, community creativity and the demand for meaningful product backstories, Quirky has challenged the status quo of invention to become a major force in the product development landscape. Quirky has launched more than 150 products across categories including electronics, home and kitchen, and more than 1 million active community members share in the product royalties. For more information, please visit http://www.Quirky.com, or follow @Quirky on Facebook and Twitter.
About HSN:
HSN is a leading interactive entertainment and lifestyle retailer, offering a curated assortment of exclusive products and top brand names to its customers. HSN incorporates entertainment, inspiration, personalities and industry experts to provide an entirely unique shopping experience. At HSN, customers find exceptional selections in Health & Beauty, Jewelry, Home/Lifestyle, Fashion/Accessories, and Electronics. HSN broadcasts reach approximately 90 million households (with live programming 364 days per year) and its website — HSN.com features more than 50,000 product videos.
About HSN American Dreams:
For 40 years, HSN – the original TV retailer – has been dedicated to finding and supporting innovators, inventors and entrepreneurs. HSN helps entrepreneurs bring their products to life by giving them the HSN platform to share their product and their story. Today, more than ever, HSN believes in the powerful role small businesses play in building communities and local economies, and is passionate about helping to build the economy one entrepreneur at a time. HSN has developed strategic partnerships with Good Housekeeping, The Stable, SCORE, The United States Hispanic Chamber of Commerce, Comcast Xfinity, ABC's Shark Tank, CBS' HATCHED and more to further discover and elevate entrepreneurs across the country.
Media Contacts:
Quirky: Lissa Regets, lissar(at)quirky.com, (480) 241-9550
HSN: Jaclyn Miklos, Jaclyn.miklos(at)hsn.net, 727-872-5773