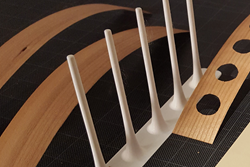 Cross pollinating processes from one industry to another gives us a different perspective and can contribute to innovative, unique products
BOSTON (PRWEB) January 18, 2018
Molded Plywood article by Carol Catalano published in Herman Miller's Why Magazine
For two decades Catalano Design has experimented with creating innovative concepts in a variety of markets. This month, founder Carol Catalano shares her experience in Herman Miller's WHY magazine, chronicling her firm's early explorations of the material that eventually led to design of signature products such as the Capelli Stool and HIFIMAN's flagship headphone the HE1000V2. Inspired by these projects and her love of three-dimensional hands-on work, Catalano has continued her research with molded wood, incorporating 3D printing into the product design process for some very inventive results.
With 30 years of experience leading Catalano Design, Catalano understands the importance of ongoing research in product design. The firm is currently exploring integration of traditional materials and new technologies such as 3D printing. "Cross pollinating processes from one industry to another gives us a different perspective and can contribute to innovative, unique products," says Catalano. "Experimenting with materials engages us in a hands-on way, challenges our thinking, and exercises our creativity."
About Catalano Design
Founded in 1987, Catalano Design is an award-winning, full-service product design and development firm located in Boston, MA. The company fosters long term relationships by working closely with clients to understand their culture, their technology, and their markets. The company's philosophy is that good design is a careful balance of art, science, and craft supported by exceptional user-centered research. This philosophy is expressed through a design process that focuses on user experience, ergonomics, out-of-the-box thinking, and sound execution.
Catalano Design has created successful designs for many clients who are recognized leaders in their respective markets, including Samsung, Herman Miller, Geiger International, Dexter Russell, D'Addario, Fishman, Hifiman, Essio, Zildjian, Russound, Boston Acoustics, Sunfire, Bay Audio, Pro Brand International, and the Institute for Human Centered Design. Catalano's work has been recognized by IDEA, the ID Magazine Awards, the European Product Design Awards, Business Week, Interior Design Magazine, Abitare, A Place to Sit Competition, and the International Furniture Design Competition.
Contact information
Catalano Design
115 Broad Street
Boston, MA 02110
Web: catalano.design
Email addr: inquiry(at)catalanoinc.com
Phone number (617) 338-7447