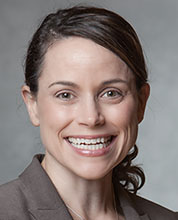 I am excited about joining this organization which is fully committed to both customer success and building a world-class culture.
MANSFIELD, Mass. (PRWEB) January 18, 2018
eClinical Solutions LLC, a provider of end-to-end data services and cloud based products for clinical research optimization, announced that clinical technology industry leader Sheila Rocchio has been appointed Chief Marketing Officer. Sheila will be responsible for global marketing and product management functions.
"eClinical Solutions is changing the way clinical trials are conducted and helping clinical development teams save time by taking manual work out of the system," said Raj Indupuri, eClinical Solutions Founder and CEO. "We are pleased to have Sheila join the team. Her industry knowledge, track record of success and marketing expertise is a key addition to the company as we experience this next phase of rapid growth and reach a broader section of the market."
"The founding team at eClinical Solutions has built a company and platform that is improving the way life sciences companies control and interact with their clinical data," said Rocchio. "I'm excited about joining this organization which is fully committed to both customer success and building a world class corporate culture. There is a tremendous opportunity to accelerate growth by further defining the brand and educating the market on the unique value eClinical Solutions provides to clinical development organizations."
Prior to joining eClinical Solutions, Sheila held marketing and executive leadership roles at PHT Corporation (acquired by ERT in 2015), where she was a driving force in commercializing and accelerating the adoption of innovative clinical technology. Most recently, she has consulted on marketing strategy for a variety of healthcare technology software companies, where she helped build brands, strengthen customer relationships and expand marketing reach. Sheila's industry honors include being selected for the PharmaVOICE 100 most influential people in life sciences and the Massachusetts Technology Leadership Council Emerging Executive of the Year. Sheila holds a BS from MIT and a MBA from Boston College.
About eClinical Solutions LLC
eClinical Solutions is a leading provider of end-to-end data management products and services including the elluminate® cloud based software platform for clinical data optimization. eClinical Solutions products and services provide life sciences companies with greater control of their clinical trial data. For more information, visit eclinicalsol.com.