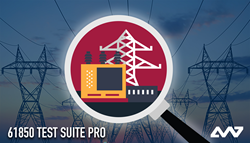 Our goal is to make IEC 61850 easier to test and troubleshoot. The new 61850 Test Suite Pro is designed to help testing go smoother in the lab, during commissioning, and with maintenance.
RALEIGH, N.C. (PRWEB) January 18, 2018
Triangle MicroWorks, Inc., extends an open invitation to download and evaluate the company's 61850 Test Suite Pro Software. Some of the new features include the ability to browse multiple IEDs, visualize substation data, simulate IEDs, test SCL files, and test GOOSE. For all of the 61850 Test Suite Pro capabilities visit their website, and connect with them on Facebook, Twitter, and Linkedin where they share valuable content. There is an active conversation and information stream at #TriangleMicroWorks as well.
61850 Test Suite Pro Featured Highlights:
Test client, IED simulator, and other tools combined into one application.
New data miner to easily find data across a substation.
Custom display for visualizing data from multiple IEDs.
GOOSE and sampled values tracker for sniffing messages on the network.
About Triangle MicroWorks, Inc.:
For over two decades, Triangle MicroWorks has been one of the world's leading providers of software solutions for standards-based communication protocols. Now serving hundreds of clients around the world, Triangle MicroWorks focuses on understanding the needs of each while building strong, lasting relationships.
Media Contact:
Beth Capeles
Triangle MicroWorks, Inc.
2840 Plaza Pl., Suite 205
Raleigh, NC 27612
Telephone: (919) 870-5101
Website: trianglemicroworks.com