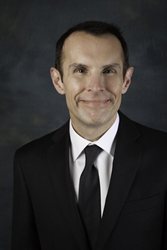 SHERMAN OAKS, Calif. (PRWEB) January 19, 2018
Today, Titanium Blockchain Infrastructure Services (Titanium) announced the completion of their Initial Coin Offering (ICO), a sale of 35 million utility tokens (BARs) to have completed in just eighteen (18) days, six weeks in advance of the planned ICO end date.
"Hitting this important target so far in advance of our expectations has served as an incredible validation of the project. Our team has worked unbelievably hard to meet demand and we are delighted to see such support from the community," said founder and CEO Michael Stollaire. "Now that the ICO has been fully funded, we are able to focus on the next steps to building a world-class company," he added.
In addition to leading the ICO Stollaire, with a view to help unite the blockchain community, has recently signed agreements to serve as a technology advisor to three other blockchain projects, Electroneum, HTMLCoin and Bounty0X.
Stollaire reported that the company and team will continue to focus on adding to the Titanium team, setting up new headquarters and delivering the core product scheduled for launch on 1 March; Internet as as Service (IaaS).
Stollaire, who has stayed very involved with the community throughout the ICO, has committed to maintaining his weekly video YouTube updates and will also host a live Q&A in the TBIS Official Telegram group, which today boasts in excess of 23,000 members. Throughout the ICO Stollaire has been available to answer questions and address the members discussions about the future of TBIS.
"It was my intent to conduct the ICO with the sames service standards that will be a part of the Titanium values; transparency, accessibility and committed to our community, the team supporting the ICO delivered astonishing service given the growth of the community in such a small time," said Stollaire when discussing the pace of the ICO.
About TBIS
Titanium Blockchain Infrastructure Services is at the forefront of the utilization of blockchain technology across personal and enterprise networking systems. Titanium's Initial Coin Offering (ICO), saw 35M Titanium BARs purchased. Titanium is working to develop a proprietary solution that will virtualize an entire IT enterprise on a decentralized blockchain. The Titanium Core Team has over two-hundred (200) years of combined experience, and are considered to be in the top 1% of their respective technology fields. Titanium is also the very first blockchain start-up to achieve both Dun and Bradstreet (D&B) and Better Business Bureau (BBB) accreditation and is currently headquartered in Sherman Oaks, CA.