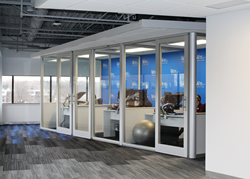 DIRTT allows the entire construction process to be streamlined- increasing productivity, speeding up delivery, and decreasing cost.
MINNEAPOLIS (PRWEB) February 14, 2018
Exciting advancements are underway for Haldeman Homme, Inc.'s (HHI) partner, DIRTT Environmental Solutions, as they have been recognized and moved to Construction Specifications Institute (CSI) Division 13: Special Construction. This change confirms DIRTT is more than a product; it's an integrated design and construction solution. DIRTT is a leading technology-driven manufacturer of highly customized interiors. DIRTT is Doing It Right This Time by shortening your construction timeline, hitting your budget, and making sure what you envision is what you get.
Construction can often times be a long and laborious process. The switch to CSI Division 13: Special Construction, specifically Integrated Construction, puts DIRT in a section that includes items requiring specialty design. This means our interior solutions are designed as an integrated solution, rather than multiple trades putting the item specified together using conventional construction methods. DIRTT is prefabricated and allows the entire process to be streamlined- increasing productivity, speeding up delivery, and decreasing cost.
As your local DIRTT partner, the Haldeman Homme team will be responsible to educate the design team, working within the pre-construction phases to ensure understanding of how the drawings will need to be addressed to properly document the remaining trade's scope of work. HHI will utilize DIRTT's software program, ICE, to generate the design intent of all scopes that are identified to be a prefabricated solution. The ICE software also generates the pricing necessary for the budget and coordination with the team on the DIRTT prefab scope. DIRTT's ICE Technology gives the phrase "what you see is what you get" a whole new meaning. ICE uses 3D technology to walk you through your space before any construction has even begun. This allows you to easily make changes, whether large or small, at the touch of a button.
Haldeman Homme, Inc. is more than your DIRTT partner. HHI partners with clients, designers, and builders through the application of solutions architecture. Solutions architecture is the practice of combining design, products, systems, and services that deliver a total facility solution to meet our clients' specific requirements and vision. HHI provides design, sales and service of laboratory equipment, classroom and science casework, athletic flooring, storage equipment, filing systems, and technology education equipment and curriculum. You can find more information and a complete list of product solutions and partners at http://www.haldemanhomme.com.