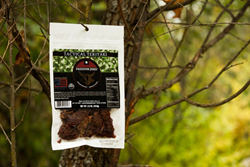 "Healing those who have been in combat is not just an intention, it is our mission," says Rocco Vargas. "We've created a great product to serve the best people we know. Freedom Jerky supports and hires veteran families with a focus on our community."
LOS ANGELES (PRWEB) January 22, 2018
With an award winning recipe and a great cause, Freedom Jerky looks to make a big impact on the lives of their customers.
As a veteran and founder of Los Angeles based creative agency FWD Future, Chia explains, "After combat I was on the path to success in arts and entrepreneurship, but still had some challenges breaking out of my wartime mindset. Being at War Horses with my brothers from Iraq gave me a feeling of peace I had not felt in a long time. From then on, we as a company knew that we needed to do whatever we could to support their goals so we created Freedom Jerky and made them our partners."
"Healing those who have been in combat is not just an intention, it is our mission," says Rocco Vargas. "We've created a great product to serve the best people we know. Freedom Jerky supports and hires veteran families with a focus on our community."
War Horses for Veterans was recently featured on the Today Show with Megyn Kelly for the profound change they're making. https://www.youtube.com/watch?v=WAtvQI-SIC8
Freedom Jerky have created a team of some of the most influential combat veterans in the community who work to provide healing experiences and careers for those returning home. With over 20 million veterans in the United States lacking proper health care, support and work opportunities, the Freedom Jerky Team knows there is a lot of progress that can be made. Whether it's on or off the battlefield, Freedom Jerky will be there.
How you can join the Freedom Jerky team and contribute to our mission of changing veterans lives is by going to freedomjerky.com and getting your freedom jerky today! If you are a Veteran with PTSD or looking for an outlet, please visit https://warhorsesforveterans.com.