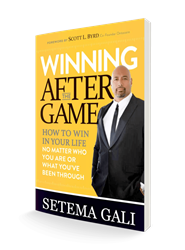 The story of a passive Polynesian kid from Utah who became an All-American, made the pros, won a Super Bowl, got hurt and lost it all… then rose again to achieve success deeper than any scoreboard and a prize far beyond rings and trophies.
NEW YORK (PRWEB) January 17, 2018
Author Setema Gali Jr is pleased to announce his new release, Winning After the Game: How to Win in Your Life No Matter Who You Are or What You've Been Through by Setema Gali published by Morgan James Publishing. The new book takes readers on an inspiring true journey of rags to riches, of triumph and loss. It draws upon the real life experiences of a young Polynesian boy who aspired to be a collegiate athlete. Meeting that goal, he then advanced to be a Super Bowl Champion. Following his professional football career, Setema excelled in the mortgage and real estate industry providing a roadmap to success after hardship, from any starting point.
Setema Gali has seen his fair share of challenging circumstances. In 2001, he was signed by the New England Patriots as a defensive lineman and in that same season the Patriots went on to win Super Bowl XXXVI.  After a short career due to injury, Setema moved forward. The income disappeared and a new start was necessary. Gali built a successful career in real estate and mortgage banking.
In 2007, the housing market crashed, taking everything Setema had worked for and plunged him a second time into a career crisis. Setema's vision, faith and commitment led him to build yet a third successful career as a powerful speaker and a coach for leaders of leaders in corporate, entrepreneurial, and financial elite status. His commitment to supporting excellence at home, work and community is evident throughout the book.
Winning After the Game shares the story of how Setema Gali identified key lessons and principles that guided him as he rebuilt his career, personal and professional success. Gali offers readers real life, practical takeaways that support forward movement from difficult circumstances. Resilience, sportsmanship, determination, and a deep belief in God, Winning After the Game is candid, impactful and engaging for readers of all ages.
If you would like more information about this topic, or to schedule an interview with Setema Gali, please call Kim Plyler at +1 484-554-5582.
About the Author:
Setema Gali is a leader of leaders, coach for the highly committed and powerful speaker for all ages. His life and career took countless ups and downs before he ultimately became the coach, mentor and trainer he is today. His story is proof that any obstacle can be overcome with truth, clarity, know-how and high commitment. Setema now shares his knowledge through motivational speaking, deep dive immersion events, powerful one-on-one and group coaching to help others to find and create the greatest version of who they were born to be. Setema also helps individuals, teams and leaders to pursue their highest and loftiest goals turning them from concepts to results. Happily married and a father of three, amidst all of his successes and career endeavors, he considers the opportunity to be a loving husband and father to be his greatest blessing. More on Setema Gali
More About This Title:
Winning After the Game: How to Win in Your Life No Matter Who You Are or What You've Been Through by Setema Gali, will be released by Morgan James Publishing on January 16, 2018. Winning After the Game—ISBN 9781683504887—has 184 pages and is being sold as a trade paperback for $17.95.
About Morgan James Publishing:
Morgan James publishes trade quality titles designed to educate, encourage, inspire, or entertain readers with current, consistent, relevant topics that are available everywhere books are sold. http://www.MorganJamesPublishing.com