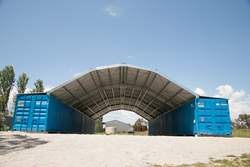 We are now Shield Roof Solutions, makers of Podroof roof kits for shipping containers.
CHICAGO (PRWEB) January 18, 2018
Launching the new year with a new operating name, website and more, PODROOF is now Shield Roof Solutions. Differentiating the operating entity from its growing line of custom roof products, Shield Roof Solutions' well-known PODROOF shipping container roof kits remain the key product. The company still features American-made steel with secure construction and a 20-year guarantee.
"As we continue to expand our product lines and operations, we wanted to separate our operating name – Shield Roof Solutions – from our products, such as PODROOF. We are excited to expand the roof products we offer and will always remain dedicated to exceptional quality and service," said Marc Niemann, GM of Shield Roof Solutions.
Shield Roof Solutions also features a brand-new website, shieldup.co, and will introduce a new set of tarp walls, with doorways to cover the open ends once a roof is attached to containers, next month.
"We look forward to offering more customized products that can be used with our roof kits and shipping containers, and this new name aptly recognizes that growth within our company," Niemann added.
Made of steel for strength and durability, PODROOF pre-engineered roof kits are produced based on custom specifications for weather protection and economical storage. The new tarp walls can be purchased with the kits or as a stand-alone option for customers. Both the roof kits and the walls are reusable and able to withstand extreme snow, wind and rain.