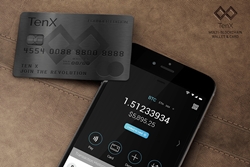 JUPITER, Fla. (PRWEB) January 18, 2018
Innovations w/Ed Begley Jr. will explore blockchain leader, TenX in a new episode, airing Saturday, January 27, 2018 @5pmET on FOX Business.
The co-founders of TenX started the company with a vision to have assets on the blockchain, available not only to industry insiders, but to any user in the "real world". With the emergence of more and more different tokens, a growing number of users and businesses truly struggle to leverage the existing blockchain infrastructure. TenX has made the interconnectedness of physical and virtual platforms a reality.
This segment will focus on the TenX Wallet and the TenX Card, which have been tested by well-known figures throughout the industry with payments in 50 countries across the world. Audiences will learn how the TenX Card acts as a debit card with the accompanying TenX Wallet (a mobile wallet that can be funded with Bitcoin, Ether, and Dash, as well as with virtually any blockchain asset in time to come).
In addition, as a result of card issuance partnerships with major credit card companies, the TenX debit card can be used in nearly 200 countries at over 36-million points of acceptance today. Moreover, users and businesses can exchange their blockchain assets seamlessly from one user to another in a decentralized manner, without any risk that is usually associated with current centralized solutions.
"Our mission is to bring cryptocurrencies to the masses. Making cryptocurrencies spendable anytime and anywhere is the key first step in that process and we are excited to share this on the Innovations series," said Dr. Julian Hosp, Co-founder and Chief Visionary Officer of TenX.
"TenX strives to offer the user access to as large as possible range of blockchain assets at a maximum degree of convenience, while adhering to the highest security standards in the ecosystem," said Innovations Senior Producer, Michael Devine. "We look forward to highlighting their technology, and to enlightening the public on the industry."
About TenX:
Founded in Singapore in 2015, TenX is the only company worldwide that makes any cryptocurrency spendable anytime anywhere by offering a debit card payment system to its users. It has raised USD $80 million in its initial token sale in June 2017 and made it to the top 5 Singapore's best-funded startups in 2017. The TenX Payment Platform is powered by the Cryptographically-secure Off-chain Multi-Asset Instant Transaction network (COMIT), which allows secure decentralized real-time instant cross-blockchain assets transactions. For more information visit: http://www.tenx.tech.
About Innovations and DMG Productions:
Innovations, hosted by award winning actor Ed Begley, Jr., is an information-based series geared toward educating the public on the latest breakthroughs in all areas of society. Featuring practical solutions and important issues facing consumers and professionals alike, Innovations focuses on cutting-edge advancements in everything from health and wellness to global business, renewable energy, and more.
Backed by experts in various fields, and a team dedicated to education and advancement, DMG Productions consistently produces commercial-free, educational programming on which both viewers and networks depend.
For more information visit http://www.InnovationsTelevision.com.