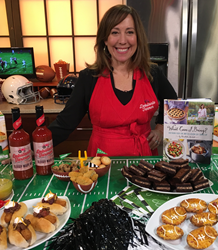 NEW YORK (PRWEB) January 18, 2018
The Big Game is nearly here and many of us are gearing up for game-day get-togethers with friends and family. Recently, Elizabeth Heiskell, the 'Debutante Farmer', teamed up with Farm Rich and YourUpdateTV to help plan the perfect homegate.
A video accompanying this announcement is available at: https://youtu.be/ywc5vFkXofA
When hosting game-day gatherings it's easy to sometimes feel trapped in the kitchen and you might just miss out on a really big play or great commercial. Well, not this year! Here are Heiskell's simple tips for homegating – or tailgating from home – like a champ.
First, be sure to shop early. Make a game plan for food, drinks and decorations – and consider all the little fun touches that will make the tablescape the talk of the game. Be sure you have all the food, serving ware and kitchen appliances ready to go before Sunday.
Prep as much as you can – slice veggies, make dips and drinks. If you're working with a new recipe, try it out ahead of time.
Finally, don't be afraid to go potluck. Ask your guests to bring an item that will make the day a little easier for you.
Take some of the work out of game day with easy snacks like Loaded Potato Skins and Mozzarella Bites from Farm Rich. Pop them in the oven, set the timer, watch the game and have warm snacks ready in minutes! For a festive touch, decorate your Loaded Potato Skins to look like footballs using sour cream for the stitching.
If you want to cook a little bit, serve these Mozzarella Stick Chili Dogs. For the chili, cook beef, onion and chili powder for 7 minutes. Stir in tomato paste, tomatoes, kidney beans and Worcestershire. Cook until thick and serve over warm Farm Rich Mozzarella Sticks in mini hot dog buns.
For more Big Game ideas, visit FarmRich.com.
About Farm Rich:
Farm Rich is one of the nation's largest frozen snacks and appetizer brands. For busy parents who want to raise good kids and have happy families, Farm Rich celebrates doing it "your way" with easy, wholesome foods the whole family will love. Take the everyday and make it delicious!
About Elizabeth Heiskell:
Elizabeth Heiskell was born and raised in the Mississippi Delta. With her passion for food, fun, and adventure, she started her culinary journey at the Culinary Institute of America in Hyde Park, New York. In 2011, Elizabeth moved from the flatland to the hills of Oxford, Miss. There, she and her husband, Luke, run Woodson Ridge Farm with a little help from their three girls. Chef Heiskell has prepared food for such notables as the Duchess of York, Former Vice President Al Gore, Chef Thomas Keller, Priscilla Presley and the governors of Mississippi, Texas and Arizona. Elizabeth is a popular TODAY Show Food Contributor on NBC and appears regularly on other national TV shows. Her best-selling cookbook, "What Can I Bring," is now available.
About YourUpdateTV:
YourUpdateTV is a social media video portal for organizations to share their content, produced by award-winning video communications firm, D S Simon Media (http://www.dssimon.com). It includes separate channels for Health and Wellness, Lifestyle, Media and Entertainment, Money and Finance, Social Responsibility, Sports and Technology.