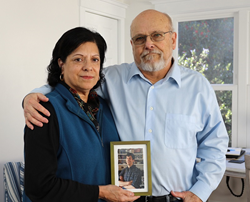 "We thank the donors and their families for saying 'yes' to donation in 2017 and for helping to heal lives."
SAN RAMON, Calif. (PRWEB) January 17, 2018
Donor Network West, the federally-designated organ and tissue recovery organization for northern California and Nevada, announced that 2,732 people became donors in 2017, the highest number in the organization's history. These deceased donors have the potential to improve the lives of nearly 70,000 people.
Donor Network West also highlighted that half of those organ and tissue donors registered on official donor registries, a testament to the kindness of the communities that live within its service area of 40 counties.
"There are many moving parts to make donation a reality for the more than 10,000 people who are waiting for an organ transplant in northern California and Nevada. We are very proud to have worked as a team to give them hope," says Cindy Siljestrom, CEO of Donor Network West. "We thank the donors and their families for saying 'yes' to donation in 2017 and for helping to heal lives."
Donor Network West serves 175 hospitals and more than 13 million people within 100,000 square miles in northern California and Nevada. The organization, which celebrated 30 years of existence last September, works in close partnership with families, doctors, nurses, more than 500 funeral homes and 44 coroners and medical examiners to connect donors to recipients.
Of the 22,275 people waiting for a life-saving organ transplant in California and Nevada, 9,818 or 44% wait in Donor Network West's service area. One organ donor can save the lives of up to eight people and a tissue donor can heal more than 75 others. Anyone can register as a donor at DonorNetworkWest.org or at the DMV.
About Donor Network West
Donor Network West saves and heals lives by facilitating organ and tissue recovery for transplantation. The organization was established in 1987, and is an official Donate Life organization accredited by the Association of Organ Procurement Organizations (AOPO) and the American Association of Tissue Banks (AATB).
Federally designated to serve 40 counties in northern California and Nevada, Donor Network West partners with the Department of Motor Vehicles and the state-authorized donor registries. For information, visit DonorNetworkWest.org and find us on social media: @mydnwest