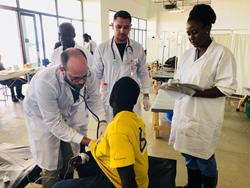 We have treated a lot of people who were very sick. The epidemic seems to have greatly subsided; we now only have 75 patients who are hospitalized.
WASHINGTON, D.C. (PRWEB) January 18, 2018
The international collaboration between the team of medical experts from Sheba Medical Center, Tel Hashomer, and Zambian health professionals has successfully contained a recent cholera outbreak in Lusaka. The disease claimed 74 lives and affected thousands.
The delegation from Sheba Medical Center plans to spend at least two weeks in Zambia, basing the length of the trip on the ongoing success of the mission. The medical experts have treated over 100 patients at Lusaka's National Heroes Stadium, a soccer stadium which has been converted into a cholera treatment center. The highly-skilled team from Israel's national hospital includes two physicians, two nurses and a lab technician, all of whom have deep experience with international emergency humanitarian rescue missions.
The Israeli delegation joined a local medical team from Zambia on the ground and built a lab within the field hospital, which allows the clinicians to get results in real time instead of depending upon outside labs and losing time in the transfer of medical samples.
"The Zambian medical teams are doing a great job and the field hospital is extremely well-organized," said Dr. Arie Augarten, the head of the pediatric emergency room in Sheba Medical Center and the leader of the team of experts in Zambia. "We have treated a lot of people who were very sick. The epidemic seems to have greatly subsided; we now only have 75 patients who are hospitalized."
A core priority for Sheba Medical Center's Director General and former Israeli Defense Forces Surgeon General Professor Yitzhak Kreiss is responding to humanitarian crises effectively with the highest standards of medical care and crisis leadership.
"Sheba Medical Center carries out humanitarian efforts worldwide to rescue and treat victims of natural disaster situations or conflicts," said Prof. Kreiss. "Sheba is dedicating its resources to saving as many lives as possible in Zambia following the cholera outbreak. For us, saving lives and making a positive global impact are at the core of Sheba's mission."
The Israel Center for Disaster Medicine and Humanitarian Response at Sheba Medical Center boasts highly experienced specialists who continue to lead the charge in preparing and responding to global humanitarian crises and emergencies. Sheba Medical Center currently has simultaneous humanitarian missions operating throughout Africa including in Nigeria and Tanzania. Prof. Kreiss and his team have successfully led life-saving humanitarian missions in Puerto Rico, Mexico, Nepal, Haiti and elsewhere.
Humanitarian aid has been a part of Sheba Medical Center's mission since its establishment in 1948. Over the years, Sheba Medical Center has initiated successful projects in all fields of medicine, and has collaborated with national and international organizations in underserved regions. These projects include improvement in patient care, bringing complex patients for treatment back to Sheba, and training local personnel on-site.
About Sheba Medical Center
Born together with Israel in 1948, Sheba Medical Center, Tel Hashomer is the largest and most comprehensive medical center in the Middle East. Sheba is the only medical center in Israel that combines an acute care hospital and a rehabilitation hospital on one campus, and it is at the forefront of medical treatments, patient care, research and education. As a university teaching hospital affiliated with the Sackler School of Medicine at Tel-Aviv University, it welcomes people from all over the world indiscriminately.