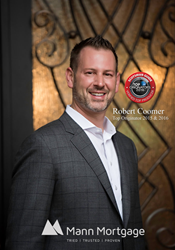 LAS VEGAS (PRWEB) January 24, 2018
Top Producer
Following a stellar year, Robert Coomer finished as Mann Mortgage's top producer nationwide for dollar volume in 2017 having funded over $92 million in loans. Coomer was also recently awarded the top producer spot for both units and dollar volume for the fiscal year from September, 2016 through August, 2017.
Strong Growth & A 3rd Branch
With the Coomer Team breaking records, Mann Mortgage Las Vegas continues to be one of the top performing branches companywide, having recently been named Top Branch by Unit Volume for the last fiscal year. "I believe our growth is driven by our deep focus on the customer experience. We work hard to make sure everything goes smoothly from the beginning of the loan process to the end", said Coomer.
Driven by a strong growth in production and customer demand, Mann Mortgage Las Vegas continues to expand. In February, 2017 a second branch in the Las Vegas Valley was added to help serve the community. The company also recently announced the opening of a third location in the Phoenix area to help bring Coomer's unique style of customer service to the Grand Canyon State.
About The Robert Coomer Team
Robert Coomer has almost 20 years of experience in the mortgage industry. After years of watching his clients become frustrated with the mortgage process, Robert founded The Coomer Team to bring to life his vision for a stress-free and high quality mortgage experience. Having moved to Mann Mortgage in 2014, the team is comprised of some of the top mortgage professionals in Las Vegas. This hand picked group of Loan Officers, Processors and support staff bring a wide range of expertise and experience to help serve their clients.
About Mann Mortgage
Mann Mortgage was founded in 1989 in Kalispell, MT. The business was built on a foundation of integrity, relationships and a genuine concern for family and community. The foundation that it was built on has held strong and has allowed Mann Mortgage, to not only endure the recent mortgage crisis, but to continue to thrive as families and lenders look for stability and integrity even in uncertain times. Mann Mortgage is dedicated to responsible and ethical lending practices.
Mann Mortgage Las Vegas offers one of the largest portfolios of financial solutions for homebuyers and homeowners. For more information, please visit the company's website at http://www.vegasapprovals.com or call 702-850-2000 to speak to a mortgage professional.