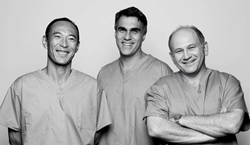 The simple truth is that there is no extremely cheap way to have LASIK surgery done safely and correctly.
GARDEN CITY, N.Y. (PRWEB) January 24, 2018
People tired of contact lens or glasses can be drawn to advertisements that claim to offer cheap LASIK (laser in-situ keratomileusis) surgery - often times as low as $400 per eye. With the annual cost of glasses or contacts at practically the same price, it can certainly seem appealing. The experienced doctors at Stahl Eyecare Experts on Long Island and New York City are warning patients to avoid these "deals."
"These days there are coupons for extremely affordable LASIK procedures but the truth is that they are often a classic bait and switch tactic. Patients are told after paying the low rate that their eyes are not suited for the supposedly affordable version," said Benjamin Chang, M.D. at Stahl Eyecare. "The simple truth is that there is no extremely cheap way to have LASIK surgery done safely and correctly. Here at Stahl Eyecare, our doctors are so confident in our ability to accurately and painlessly perform LASIK we proudly offer a money-back guarantee to all our patients, and in addition, we offer a 'price-match' guarantee."
The doctors at Stahl are truly experts in the field of LASIK - they have performed more than 50,000 procedures throughout Long Island and in the five boroughs of New York City, and Stahl Eyecare Experts has been on the cutting edge of ophthalmology for more than 50 years.
"The LASIK procedure only takes about five minutes to complete and is the safest of all surgeries performed in the world - with over 3 million performed worldwide," said Thierry Hufnagel, M.D., one of Stahl's board-certified eye physicians and an instructor in IntraLase™ bladeless LASIK surgical technique.
The IntraLase™ method delivers outstanding results and has been shown to improve outcomes for more patients. Stahl Eyecare Experts was the first private vision eye center in New York to offer patients the iFS™ Femtosecond laser system, a technological breakthrough for the IntraLase™ method of performing LASIK surgery. With All-Laser iLASIK performed at Stahl Eyecare Experts, no metal blade is used, offering a premium level of safety and accuracy. Thanks to iLASIK, most people who meet the general age and health requirements are candidates, and iLASIK has earned FDA approval to treat the broadest range of vision imperfections including nearsightedness, farsightedness and astigmatism.
For more information on the best LASIK surgery available, visit http://www.stahlny.com.