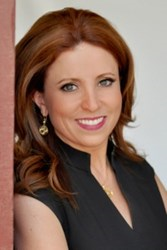 EL PASO, Texas (PRWEB) January 19, 2018
Elizabeth Dipp Metzger is the former president of council of the New York Life elite sales force of more than 12,000 licensed agents. As part of her duties as president, Metzger will be speaking at the Council meetings in Las Vegas, Nevada this coming February 2018. Her audience will be a couple of thousands of New York Life agents. Dipp Metzger will be sharing her story on how her success happen, as well as motivating her peers to aim bigger so one day they can all achieve the presidency goal.
Council meetings are done once a year and there are 4 levels. Those agents that met a certain amount of production are the qualifying council agents.
Dipp Metzger is president of Crown Wealth Strategies, a full-service financial advisory and wealth management firm for families, professionals and business leaders. Since founding Crown Wealth in 2010, she has established a national reputation for helping clients maximize and protect the value of their investments over the course of a lifetime.
Dipp Metzger is a Member Agent, The Nautilus Group®, a service of New York Life Insurance Company; a Financial Adviser offering investment advisory services through Eagle Strategies; a Registered Investment Adviser; a Registered Representative offering securities through NYLIFE Securities LLC; a Member of FINRA/SIPC, and a Licensed Insurance Agency. She is a Certified Financial Planner (CFP®), and an Accredited Estate Planner (AEP®). She holds a Group 1 Life & Health certification.
Dipp Metzger and her family have sponsored the Children's Oncology Playroom at the El Paso Children's Hospital. She serves on the El Paso Board of the United Way, is President of the Board of the Paso Del Norte Children's Development Center, and is El Paso Chapter Chair of the Young President's Organization (YPO). She is a member of the Financial Planning Association®.
She received a Master of Science in Financial Services (MSFS) from American College. She holds a BA in International Relations from Pomona College