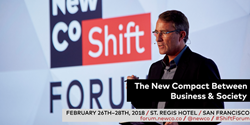 "The shifts--and rifts--we're living have put the existing compact between business and society on notice. Innovation is a key driver of the disruption, but that's just part of the story. Leaders from business, politics, education, community and beyond can no longer afford to navigate in isolation"
SAN FRANCISCO (PRWEB) January 23, 2018
The collision of technology, business, politics, and culture—with a spotlight on the shifting compact between business and society—takes center stage at NewCo Shift Forum, February 26 - 28th, 2018 at the St. Regis Hotel, San Francisco. With more than 400 top business, policy, education and non-profit/community leaders, including former world leaders, state governors, the head of Facebook NewsFeed, and more, the "Business Must Lead" agenda challenges a diverse group of leaders to address these shifts together.
"The shifts--and rifts--we're living through have put the existing compact between business and society on notice. Innovation is a key driver of this transition, but that's just part of the story. Leaders from business, politics, education, community and beyond can no longer afford to navigate in isolation or silos. A new compact is needed," said Shift Forum host and executive producer John Battelle. "Shift Forum is a platform for leaders to convene, to move beyond the headlines and hype and focus on a real, rational exchange."
Known for its inside-out, experiential business festivals, NewCo launched Shift Forum in 2017 and its NewCo Shift publication in 2016. A founder of Wired magazine, Battelle convenes audiences to fuel open discourse around business and social issues. Battelle and team have curated an eclectic mix of leaders targeting gender parity both on stage and in the audience.
Shift Forum's 2018 confirmed speaker line-up includes:
Anat Admati – Prof. of Finance & Economics, Stanford GSB
Bill Anderson – CEO, Genentech
Donna Brazile – Former DNC Chair and Author
Pat Brown – Founder, Impossible Foods
Carol Christ – Chancellor, UC Berkeley
Chris Christie – Former Governor of New Jersey
John Chambers – Executive Chair, Cisco
Eric Garcetti – Mayor, City of Los Angeles
John Heilemann – National Affairs Analyst, NBC News and MSNBC; Executive Producer and Host, Showtime's The Circus
Dr. Sue Desmond-Hellman – CEO, Bill and Melinda Gates Foundation
John Hickenlooper – Governor of Colorado
Reid Hoffman – Co-Founder – LinkedIn, Greylock Ventures
Kevin Johnson – CEO, Starbucks
Aileen Lee – Founder and Partner, Cowboy Ventures
Karen Lynch – President, Aetna
Debbie McCoy – Managing Director, BlackRock
Adam Mosseri – Head of News Feed, Facebook
Michelle Peluso – SVP, CMO - IBM
Marc Pritchard – CMO, P&G
Sarah Bloom Raskin – Former Deputy Secretary, U.S. Department of the Treasury
Ben Silberman – CEO & Co-Founder, Pinterest
Susan Sobbott – President, American Express
Laura Tyson – Distinguished Professor of the Graduate School, UC Berkeley
Cross-aisle and cross-industry, the Shift Forum is an exchange between established corporate executives, tech and startup founders, as well as the leaders driving policy and political discourse. Participants agree to follow Chatham House Rule, which allows Delegates to use the information received, but not to share the identity or affiliation of those sharing the information unless the rule has been waived.
"It's rare for business leaders to get a 360-degree view--an upclose on how innovation impacts business, politics, policy and workforce issues. Shift Forum delivers that and makes every individual in the room an active participant. It's those diverse views that will prompt deeper questions and ultimately drive richer answers," said Stacey Foreman, NewCo co-founder and executive producer.
Microsoft, Adobe, Dell Technologies and World Leadership Alliance-Club de Madrid are 2018 Shift Forum Pillar partners; Comcast NBCUniversal, EY, Jobs for the Future, Perkins Coie and Starbucks are sustaining sponsors.
Senior leaders, including those from tech, business, academia, policy and community organizations are invited to register at Shift Forum. Audience space is intentionally limited to foster open, candid exchange.
Core Pillars, Key Conversations
Shift Forum exchanges are built around core pillars that reflect the seismic shifts in business and society today. Each topic will be anchored by provocative conversations and expanded by all participants in the room:
Politics & Policy. The pace of technology-driven change is dramatically outpacing government's ability to adapt and is fueling a grand re-negotiation of the contract between society and business. Business, community and government leaders must come together to create a new framework for our shared social compact addressing issues of inclusion, privacy, human rights, and governance, as well as the state of political discourse on the United States and beyond. What is the government's role in regulating the impact of technology on labor, climate and capital? Should companies of a certain size or influence be regulated as utilities are?
Future of Democracy. Partnering with the World Leadership Alliance-Club de Madrid, the largest forum in the world of former democratic Presidents and Prime Ministers, we'll hear from a select group of former world leaders discussing the fate--and future--of democracy in North America. A pre-conference roundtable featuring 30 leaders in business and politics will report key discussion takeaways to Shift Forum general session.
Business Transformation. Amidst the massive shifts, business must press forward, delivering quality experiences to its stakeholders and managing its workforce, processes, and relationships to partners and communities. The focus will be on the "how" of the Shift – best practices, lessons learned, and insights that translate across economic sector or industry. What is the role of business in society? Do successful, highly profitable business have a responsibility to manage their balance sheets by metrics beyond profit and revenue?
Future of Work. Policy makers, academics, business leaders and employees are facing the inescapable impact of automation and artificial intelligence (AI) on our most fundamental economic assumptions. While the debate often tips to whether and how jobs will be lost, a more immediate issue begs attention: Millions of jobs (drivers, cashiers, warehouse workers, and even white collar knowledge workers) are currently on a collision course with capitalism's never-ending quest for efficiency and profit maximization. Will new jobs emerge to replace those that seem certain to evaporate? How can we shift our education system to anticipate the new skills a post industrial society demands?
Future of Food. How is the nation's--and the world's--trillion dollar food industry evolving to both feed the world and avoid climate catastrophe? Innovative new food companies are challenging entrenched global brands, many calling for new approaches to sourcing, production, and regulation. Consumers are demanding healthier and more sustainable choices, but the shift to meet market demands often draws Wall Street activists. How can we close the gap between healthy and affordable food? Who are the players, what are the solutions? What role does has food play in calming (or exacerbating) global unrest?
Press inquiries: stacey(at)newco(dot)co.
About NewCo
NewCo produces a multi-platform publication, NewCo Shift, illuminating the companies, leaders, and issues driving the transition to a sustainable, positive-impact business ecosystem. NewCo Shift is defining a new approach to business journalism with content from notable writers and thinkers on the key issues impacting global business today. Join the NewCo Shift conversation online at Shift.NewCo.co or get our stories delivered to your inbox with the NewCo Daily and NewCo Weekly email newsletters.
NewCo Festivals operate in more than 16 cities around the world in North America, Asia, Europe and Latin America. They have the focus of a business conference, the feel of a music festival, and the model of an artist open studio. Participants choose which organizations they want to explore and then gather inside the company's home office, experiencing first-hand how these inspiring organizations drive purposeful transformation in their industries through authentic sessions hosted by founder and executive leaders.
About John Battelle
John Battelle has shaped the course of media and technology, first as a founding editor of Wired, then as the founder of The Industry Standard, and later as the founder of Federated Media Publishing (later sovrn). Over the past three decades, John Battelle has convened dozens of industry-leading executive events centered on the intersection of technology, business, and culture, including the Internet Summit (with Mary Meeker and Bill Gurley), Foursquare (with Steven Rattner), Signal (with Marc Pritchard) and the Web 2 Summit (with Tim O'Reilly). Widely respected as one of the best interlocutors in the business, Battelle's intimate, deeply researched conversational style engages and challenges speakers and audiences alike.