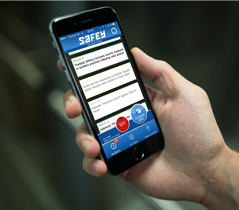 It is our goal to provide members of the Franklin community with the best technology available
SEATTLE (PRWEB) January 18, 2018
Since Fall 2017 each Franklin University Switzerland student is issued a license for the SAFEY Emergency System. "It is our goal to provide members of the Franklin community with the best technology available to assure their safety while abroad," a Franklin representative noted when asked about the new application.
A leader in this class of service, the SAFEY Emergency System is the combination of the most advanced risk management technologies in positioning, security, and communication available today. SAFEY is a simple two-part solution consisting of the SAFEY mobile application for students and faculty, and a web-based SAFEY control panel for security administrators and responders. SAFEY employs a panel of experts in travel risk management that review incident reports on a 24/7/365 basis and then use the alert system to automatically transmit relevant and filtered event information via in-app location-based alerts and SMS. This system keeps SAFEY users informed of any critical events as they are on their study abroad campus or traveling anywhere in the world.
Unlike many other systems, SAFEY does not rely on subscriber input for travel registration, but instead operates real-time based on the actual GPS location of each user. Communication is disseminated via a 'push'to the robust app and a high priority SMS delivery system. SAFEY's patented SMS delivery technology maximizes the effectiveness of communications even in the event a crisis overwhelms telephone and data capabilities. Through the web application, Franklin administrators can instantly initiate communication with users indicated to be in the area of an emergency thereby allowing them to quickly assess their status.
About Franklin University Switzerland
Franklin University Switzerland is an English-speaking, US- and Swiss-accredited non-profit university based in Lugano, Southern Switzerland. The university offers bachelor's and master's programs, foundation programs and summer courses in a highly international academic learning environment. Franklin's community of scholars and students represents over 60 nationalities from all corners of the globe. With a core foundation in the liberal arts, our experiential and personalized approach to education fosters cross-cultural awareness and critical thinking, preparing students to become responsible global citizens in an increasingly complex and interconnected world. In particular, Franklin's signature Academic Travel courses take learning beyond the classroom to destinations that span the globe, inspiring students to fully engage with cultures other than their own. http://www.fus.edu
About SAFEY Emergency System
SAFEY Emergency System, http://www.safeyglobal.com, is a mobile-based warning, communication, SOS, & location system that allows administrators to be proactive in protecting and communicating with their study abroad students and faculty. The SAFEY system helps program administrators and program providers with innovative and indispensable risk management tools to improve student health & safety.