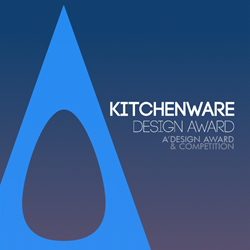 COMO, Italy (PRWEB) January 18, 2018
The A' Bakeware, Tableware, Drinkware and Cookware Design Awards is an annual event that admits submissions by industrial designers, ceramic artists, glass artists, metalsmiths and kitchenware manufacturers from all over the World. Design works that were proposed and/or completed within the last 10 years are eligible to be nominated. The A' International Kitchenware Design Competition is presented in several different sub categories such as cookware, drinkware and liquidware, kitchen tools and gadgets, tableware, organizers and storage, cutlery and culinary tools and products.
Once submissions are admitted, a grand panel of experienced juries will judge the projects for both their technical content and their artistic creativity. Jury members will be looking forward to select projects that have a capacity to influence kitchenware design professionals worldwide towards the creation of unparalleled and original designs. Entries to the A' Bakeware, Tableware, Drinkware and Cookware Design Awards will be peer reviewed and voted against predefined evaluation criteria such as innovation, ergonomics, flow design, public benefits, functionality, sustainability, decorative solutions, creative approach and excellent use of space.
Winners will be awarded with the A' International Design Awards' prestigious 3D printed metal trophy, professional certificate, immense PR campaign, hardcover yearbook of best designs and many other benefits such as exclusive invitation to the Award Ceremony (Gala Night) and Exhibition Opening that will held in Italy.
Late deadline for submissions to A' Bakeware, Tableware, Drinkware and Cookware Design Awards is on February 28, 2018. Results of the competition will be announced to public on April 15, 2018. For more information about the kitchenware design category and its submission requirements, please visit https://competition.adesignaward.com/competitions/tableware.html
About A' Design Award and Competition
The A' Design Award and Competition was established to promote good design practices and principles by highlighting exceptional design projects from creative designers, artists, architects and design-oriented brands all around the World. The main aim of the A' Design Award and Competition is to create incentives for worldwide designers to come up with better works that benefit mankind. Interested parties may find more details on the accolade at http://www.designaward.com