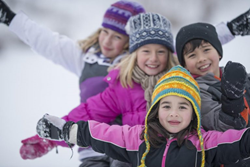 The Backpack-A-Thon event last year provided more than 40,000 kids in our community with backpacks full of school supplies, and now we're working to provide gloves, hats, and warm coats to kids in need
Chicago, IL (PRWEB) January 20, 2018
Lisa Jusino, managing agent of Jusino Insurance Services, is rallying the Chicago community behind a charity event that promises to warm the hearts of young children in the region who face economic inequality. With more than 200,000 children in the Chicago area living under the poverty line, the Jusino team is supporting local nonprofit Cradles to Crayons in a charity drive to provide essential seasonal items to underprivileged youngsters.
"The Backpack-A-Thon event last year provided more than 40,000 kids in our community with backpacks full of school supplies, and now we're working to provide gloves, hats, and warm coats to kids in need," said Jusino.
The Jusino team will be encouraging Chicago residents to take an active role in the charity drive by referring friend and family into Jusino Insurance Services for a no obligation insurance appraisal. For each referral received in this way, the firm will make a cash donation to Cradles to Crayons.
Additional details on how to take part in the event are provided on this page: http://jusinoinsuranceservices.com/rewards/.
About Jusino Insurance Services
Elizabeth Jusino has been with Allstate for over 25 years. Her tenure and experience has allowed her to not only understand the ins-and-outs of insurance, but also to service hundreds of families regarding a full range of protection needs. Elizabeth and her team of experts are committed to helping clients protect the things that are important – family, home, car, boat and more. The Jusino Insurance team can also help clients prepare a strategy to achieve their financial goals. To contact an expert at Jusino Insurance Services, visit http://www.jusinoinsuranceservices.com/ or call (312) 850-0775.