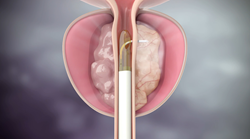 "Rezūm is a simple procedure that is done in the office in under an hour, without general anesthesia," says Dr. Wallen."
TAMPA, Fla. (PRWEB) January 18, 2018
Jared J. Wallen, MD, a Brandon, Florida-based urologist with Florida Hospital Physician Group, is the first in the area to offer a new minimally invasive treatment for enlarged prostate, also called benign prostate hyperplasia (BPH). Rezūm is an FDA-approved procedure that delivers water vapor (steam) directly to excess prostate tissue, to remove the extra tissue causing the problem.
"Rezūm is a simple procedure that is done in the office in under an hour, without general anesthesia," says Dr. Wallen. "The results are comparable to surgeries for BPH such as TURP, Greenlight, or simple prostatectomy, which are all more invasive. It's a great alternative for men who don't want to deal with the potential side effects of medication."
"Rezūm is a safe and effective treatment of BPH," says Dr. Wallen. "Because it's minimally invasive, men can get back to regular activities in a shorter time and see maximum results in a couple months. And it can preserve sexual and urinary functions, which may be compromised with some other treatments."
About benign prostate hyperplasia (BPH)
The prostate is a gland in men that surrounds the urethra, just below the bladder. BPH is a non-cancerous condition in which the cells of the prostate grow, putting pressure on the urethra, restricting flow of urine from the bladder. Symptoms of BPH include the need to urinate frequently and urgently, weak or slow stream, feeling that the bladder is not emptying completely, a stream that starts and stops, and difficulty with starting urination.
BPH affects approximately 50% of men over the age of 50 and up to 90% of men over the age of 80. As age increases, so does the severity of the symptoms. Treatments for BPH typically consist of lifestyle modification, medication, or partial or complete surgical removal of the internal portion of the prostate gland.
About Dr. Wallen
Dr. Wallen is a urologist whose specialties include general urology, men's sexual health and urologic oncology. Dr. Wallen is skilled in minimally invasive and robotic urologic surgery for the treatment of both benign conditions and urological cancers including prostate, testicular, bladder, penile, and kidney cancer. He received his medical degree from Rush University in Chicago, IL, and completed his residency in urologic surgery at the University of South Florida College of Medicine in Tampa, FL.
Dr. Wallen is part of the Florida Hospital Physician Group and has an office at 938 Oakfield Drive in Brandon, FL. For more information about Dr. Wallen, visit FHUrologyTampa.com.
About Florida Hospital Physician Group
Florida Hospital Physician Group (FHPG) is a multi-specialty physician group, dedicated to improving the health and wellness of communities throughout the greater Tampa Bay region with more nearly 200 providers operating in over 60 locations representing over 30 medical specialties. FHPG offers patients the highest level of compassionate and multidisciplinary care through a broad range of medical and surgical services, as well as direct access to five local Florida Hospitals, a Long Term Acute Care facility, imaging centers, specialty and urgent care centers, rehabilitation facilities and home care agencies located throughout Hillsborough, Pasco and Pinellas counties. Part of the Adventist Health System, Florida Hospital is a leading health network comprised of 26 hospitals throughout the state. For more information, visit http://www.FHPhysicianGroup.com.
About NxThera and the Rezūm System
NxThera pioneered its Convective Water Vapor Energy (WAVE®) platform technology to treat a variety of endourological conditions, beginning with BPH. The company is conducting advanced development and clinical research to potentially expand application of its technology to include the targeted treatment of cancerous prostate, kidney and bladder tissue as well as OAB. NxThera's FDA-cleared Rezūm System is indicated to treat symptoms of BPH using thermal energy that is convectively delivered to obstructive prostate tissue in targeted, precise treatments, with minimal discomfort. Three-year clinical data demonstrates sustained improvements in LUTS, urine flow, quality of life, and preservation of sexual function. Founded in 2008, NxThera is located in Maple Grove, Minn. For more information, visit http://www.rezum.com.
###