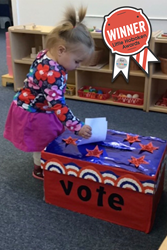 "Putting him into this Apple Montessori School was the best decision we have made!"
HOBOKEN, N.J. (PRWEB) January 20, 2018
The results are in, and Apple Montessori has been named the number one preschool in the Hoboken region.
Thousands of moms and families cast their votes for their favorite local businesses in the second annual Little Hoboken Awards. Apple Montessori earned the top spot in the Favorite Preschool category.
This award is a recognition of the school's important role in the community. For 45 years, Apple Montessori Schools have been delivering quality education and supporting local families throughout New Jersey. Throughout those years, they have continued to innovate with ongoing teacher development programs, a diverse curriculum, and state of the art facilities.
Above all, the school's commitment to its simple core principles of active learning and exploration, social and emotional development, and a nurturing environment is what makes it stand out.
As one Hoboken parent, Casey Glugeth, put it, ""We feel Apple Montessori is the best preschool in Hoboken because our son started at Apple back in June (at about 1.5 years old) and he has completely flourished at Apple. It is truly unbelievable. The teachers and staff are so kind and really make the whole experience enjoyable for him and us parents. Sometimes he does not want to go home! Putting him into this Apple Montessori School was the best decision we have made!"
"We're so proud to be part of such a vibrant and family-oriented community," said Joanne Mooney, President of Apple Montessori. "We have always been driven to elevate the standard of education in New Jersey, and our two Hoboken schools prides themselves on giving children the best possible head start."
Parents interested in learning more about Apple Montessori Schools and how its approach to education can benefit their children are encouraged to visit the school's website. Or, schedule a tour of your nearest school and see for yourself what makes Apple Montessori a local favorite. Apple Montessori also hosting a series of Open Houses January 26-February 10.
About Apple Montessori Schools: Apple Montessori Schools is a family owned and operated organization committed to inspiring a life-long love of learning in all students. We offer infant, toddler, preschool/kindergarten, and elementary programs designed to nurture the whole child – intellectually, socially, and emotionally. Our approach recognizes the uniqueness of every child and cultivates each student's potential in a safe, caring, and supportive learning environment.