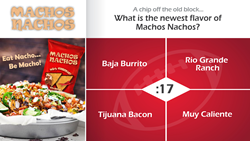 The real challenge in TV advertising is reaching viewers who skip or ignore ads... This game solves that problem by transforming advertising into a fun game.
TAMPA, Fla. (PRWEB) January 18, 2018
Interactive advertising pioneer React is opening an exclusive beta test of the "Super Squares™" live game show app that gives players real cash and prizes for answering live quiz questions about sports events, and the TV commercials that run during breaks inside the app. More than $50,000 in cash and prizes are on tap to be awarded over a three-weekend span, to up to 65,000 adult residents of the seven county greater Tampa Bay metropolitan region.
The patented technology was developed by long-time Tampa-area advertising innovator Frank Maggio, whose background includes inventing ReacTV®, the first live interactive game show for PC's and smart phones synced to cable TV systems. Maggio's passion for sports-related games date back to a windfall he claimed from an 1985 nationally publicized contest he solved, claiming over $20 million in prizes.
"The real challenge in TV advertising is reaching viewers who skip or ignore ads," Maggio said. "With smart phones in the hands of over 80% of TV viewers, it's just too easy to look away during breaks. This game solves that problem by transforming advertising into a fun game where people win real prizes and brands get the engagement they crave."
Only 1,000 players will be allowed in to the initial, free beta test on January 21st, synced to the NFC Championship, with over $500 in cash (and up to 40 Domino's® pizzas) awarded to the highest scoring players. Up to 4,000 players will split over $1,000 in prizes and up to 160 Domino's® pizzas during the Pro Bowl event on January 28th.
The Android version of the app is now available via http://SuperSquares.com and on the Google Play store at https://Q.cr/droid_1. An Apple iOS version is expected for release within a week.
React expects to open its scaled network for up to 60,000 players during the "big game" on February 4th, upping the cash prizes for the top 100 scores to nearly $4,000 – and over 2,000 Domino's® pizzas if Super Squares™ fills to capacity. "That's nearly the size of a sell out at Raymond James Stadium," adds Maggio.
In keeping with game show lore, Super Squares™ will award one player with a "perfect Super Square" from any of the three beta games, with the keys to a brand new 2017 Nissan Altima®, valued at over $24,000. The grand prize will be selected and announced live on two radio stations during the morning drive on February 5th.
The game is free. Here is how to play:
1) During major breaks in the action, players are notified to enter the game show on their devices.
2) The app asks questions about the live game, like "Which player scored a touchdown in the 1st quarter?" and the in-app ads, such as "Which truck brand is the best-selling in the United States for 30 years running?"
3) Correct answers earn points tied to a "game square" – similar to the squares games played by millions, where players try to match their squares to score of the game, at parties around important games.
4) Players collect points over 6 game show breaks, with the highest scoring players winning cash prizes.
The Tampa Bay beta test will provide React with the data and feedback it expects to need to expand nationally in September. Other professional and college sports, including basketball and even auto racing, are planned for 2019. In addition to the seminal reactive advertising patent, #6,606,745, issued in 2004, React's founder was awarded a patent for the Super Squares™ game technology earlier this month (U.S. Patent #9,858,764). React's management team includes long-time marketing and advertising experts Rick Thompson, Terry Taormina and David Shimkus.
Genesis Communications, and WHBO Sport Talk Florida 1040, are co-sponsoring the Tournament. Tampa-based HD Interactive, led by CEO Sean Carey, has been tapped for Super Squares' app development.
"Live game shows are among the hottest trends in mobile apps right now," Maggio said. "With Super Squares™, everyone has a chance to ride that wave and win big – including advertisers."
Connect with Super Squares on social media:
https://twitter.com/SuperSquares1
https://www.facebook.com/supersquares1/
About React
Founded by technology innovator Frank Maggio, React LLC is an interactive advertising company geared around the concept that advertising should be engaging and "reactive," where consumers benefit by engaging with advertising in a way that benefits them, and the brands hoping to reach them. With patented technology, React honors user privacy by never selling or sharing personally identifiable information. React is presently launching Super Squares™, with reactive reality TV game shows ReacTV® and Instant Millionaire™ on the 2019 product map.