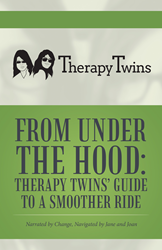 WALLINGFORD, Conn. (PRWEB) January 22, 2018
Intent on breaking the stigma of mental illness, Therapy Twins offer a look under their hood and into their lives. "From Under the Hood: Therapy Twins' Guide to a Smoother Ride" reveals their own diagnoses with comedic twists while sharing traditional and nontraditional "tune-ups" to guide the reader through a journey of healing.
A survival guide in the tradition of Cliff Notes, Therapy Twins address a host of issues related to personal well-being. These include rewiring the brain following difficult experiences, getting over past relationships, letting go of bitterness and resentment, and learning that forgiveness is the new "F" word.
"In a language everyone can understand, our book is short, sweet, and easy to practice jumpstarting self-transformation," said the Therapy Twins.
Using Therapy Twins' personal experiences, education, and work as a backdrop, "From Under the Hood: Therapy Twins Guide to a Smoother Ride" presents both a memoir of two intertwined, difficult childhoods and a guide to overcoming psychological difficulties from depression, anxiety and PTSD.
"From Under the Hood: Therapy Twins' Guide to a Smoother Ride"
By Therapy Twins
ISBN: 9781504382298 (softcover); 9781504382281 (eBook); 9781504388917 (audio book)
Available at the Balboa Press Online Bookstore, Amazon, and Barnes & Noble
About the author
Therapy Twins are mental health experts with more than 65 years of combined experience. Both are graduates of Columbia University with masters of science degrees in psychiatric nursing. They (Jane and Joan) are published in peer-reviewed journals in both the United States and England and have done both radio videos and television programs targeting hot mental health topics. They live in Connecticut with their family. To learn more, please visit http://www.thetherapytwins.com.
General Inquiries:
LAVIDGE – Phoenix
Bryan Beach
480-306-6554
bbeach(at)lavidge(dot)com