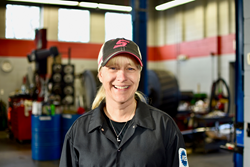 Thankfully, the march of automotive technology stands to make our roadways progressively safer over time—even when they're covered in snow
ABERDEEN, N.J. (PRWEB) January 22, 2018
Harrowing weather across much of the East Coast over the past few weeks belies a sunnier reality—driving in icy conditions is getting a lot safer, writes Janet Bigelow of Aberdeen-based Advanced Tire & Auto Center, in a new blog post. "The reason is traction-control technology, which has been a mandatory feature in vehicles for the past five years," the 17-year industry veteran notes in the post.
Under emergency conditions such as hard braking or making a sudden turn to avoid a collision, Bigelow notes, even veteran drivers struggle to make the quick calculations necessary to keep their vehicles under control. Traction control systems, however, continuously monitor the speed of each wheel on the car and work in tandem with other systems to adjust them accordingly. "When loss of grip or a slip is detected, this advanced system, along with your anti-lock brake system, can apply and release brake pressure to each wheel independently as power is being redistributed to other wheels," Bigelow explains. The net effect is to keep vehicles in their lanes.
Fortunately, manufacturers are now integrating traction control with the other lifesaving safety systems —things like anti-lock braking or dynamic stability-control—that come in today's high-tech cars. "According to the federal government, the introduction of this technology is already making a significant dent in roadway fatalities, with 6,169 lives saved as of 2015," Bigelow writes.
None of these systems will replace good judgment, however. Drivers across the Northeast still need to be highly cognizant of roadway conditions this time of year, she writes. In the blog post, the veteran mechanic encourages drivers to consider following these safety tips:

Accelerate and decelerate slowly.
Drive slowly and always wear your seatbelt.
When following another vehicle, give yourself more time to stop (up to ten seconds) than you would under normal conditions.
Brake early and correctly. It takes more time and distance to stop in adverse conditions.
Trucks are heavier than cars, making their brake time slower. Avoid cutting quickly in front of them.
Even though most drivers in the Northeast learned these essentials as teenagers, it's always good to keep them top-of-mind, Bigelow writes. "Thankfully, the march of automotive technology stands to make our roadways progressively safer over time—even when they're covered in snow."
The full post is available at: https://atacnj.com/blog
About Advanced Tire & Auto Center.
Advanced Tire & Auto Center, located on Route 35 in Aberdeen Township, N.J., was established by veteran mechanic Jason Bigelow in 1995, who now runs the business with his wife Janet, also a veteran mechanic. Known for its focus on diagnosing and repairing state-of-the-art, 21st-century vehicles, Advanced Tire & Auto Center utilizes 21 factory O.E. diagnostic tools paired with certified technicians to perform the same level of service offered by dealerships, but at lower costs. Its comprehensive offering also includes tire sales and service, wheel alignments, "check engine light" diagnostics, as well as services to corporate and municipal vehicle fleets, body shops and insurance companies. Visit: http://www.atacnj.com
####
Press contacts: At Parness & Associates Public Relations, Bill Parness, bparness(at)parnesspr(dot)com or Lisa Kreda, lkreda(at)parnesspr(dot)com (732) 290-0121.
At Advanced Tire & Auto, Jason Bigelow or Janet Bigelow, (732) 290-7300 or
Advancedtirenj(at)gmail(dot)com