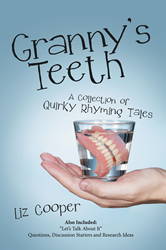 "A collection of 'quirky rhyming tales' that occasionally recall Shel Silverstein, Granny's Teeth adds in an educational component with questions for reader discussion – but it's also just plain fun." - Blue Ink Review
WASHINGTON (PRWEB) January 23, 2018
Humorous books for young readers often do not encourage higher thinking and thoughtful discussion about complex themes. Author Liz Cooper, a former teacher and school system reading supervisor, seeks to do just that with her new book, "Granny's Teeth," a quirky collection of tales for children and adults.
After the first tale in the book, titled "Francois and the Tide," won a top-ten award as a standalone children's book, friends, family and fellow writers encouraged Cooper to write more material; thus, she decided to compile more of her own short stories. The book also contains questions and activities to engage children's minds and incite complex discussions.
"Not only did I want this book to be entertaining," said Cooper, "but I also wanted children and adults to have the chance to engage in meaningful conversations with one another."
"Granny's Teeth" has already been receiving critical praises from reviewers:
"A collection of 'quirky rhyming tales' that occasionally recall Shel Silverstein, Granny's Teeth adds in an educational component with questions for reader discussion – but it's also just plain fun." – Blue Ink Review
"Anyone who has ever struggled to help a young child find meaning in the words they read will find the information presented here to be of great value." – Clarion Review
"A fine work that should keep young readers engaged with fun and amusing subjects while providing a foundation for thoughtful reading practices." – Kirkus Review
"Granny's Teeth" is sure to entertain children and adults, as well as encourage development of critical thinking and reading skills. To learn more please visit LizCooperAuthor.com.
"Granny's Teeth: A Collection of Quirky Rhyming Tales"
By Liz Cooper
ISBN: 978-1480847644 (softcover); 978-1480847620 (hardcover); 978-1480847637 (electronic)
Available at Archway Publishing, Amazon and Barnes & Noble
About the author
Liz Cooper has a Master's Degree in Reading from Towson University. Drawing upon her former experience as a teacher and school system reading supervisor, she knows how to write stories that are charming, thought-provoking—and downright funny.
For Interviews and Review Copy Requests Contact:
LAVIDGE – Phoenix
Lauren Dickerson
480-306-7117
ldickerson(at)lavidge(dot)com