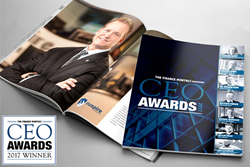 Frase has led Nuspire in tremendous growth over the past 18 years.
COMMERCE, Mich. (PRWEB) January 19, 2018
Nuspire, a state-of-the-science managed network security service provider for some of the largest and most distinctive companies around the world, announced today that its CEO, Saylor Frase, has been selected as one of the winners of the Finance Monthly CEO Awards.
Since its inception in 1999, Nuspire has focused on delivering service level agreements to secure against a turbulent and unpredictable threat landscape. Frase has led Nuspire in tremendous growth over the past 18 years with market and geographic expansion, while launching innovative products and services. Nuspire has also been the recipient of a number of industry and business awards including the Info Security "Best Managed Security Service" Global Excellence Award and Inc. Magazine's "Fastest Growing Companies." In addition, Nuspire has deployed some of the largest commercial network monitoring and security solutions in the world; delivering services in over 30 countries globally.
Every year, the Finance Monthly CEO Awards celebrates the success, innovation, and strategic vision of CEOs across a wide variety of sectors and industries globally. Winners of this award are determined based on the CEO/C-Level Executive's achievements in revenue growth and/or profits, turnaround transformation, exceeding expectations, experiencing growth within new markets, leading market share, successful M&A integration, and delivering and producing new products and services.
About Nuspire
Nuspire is a state-of-the-science managed network security service provider with nearly two decades of industry experience with providing network management, monitoring, and security services for some of the largest and most distinctive companies in the world. Beyond the classic monitor and support models, Nuspire utilizes big data, cloud-driven technologies, custom-built and integrated threat intelligence, and human analytics to meet the managed security needs of enterprise organizations with geographically dispersed networks. Solutions are delivered with service level commitments for network security, performance, and compliance. With its custom-built monitoring systems, a team of experts available 24/7/365, and a deep security knowledge and expertise, Nuspire is the benchmark for managed security services and maintains unparalleled cybersecurity technologies deployed globally. To learn more, visit http://www.nuspire.com