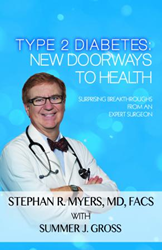 In an era when diabetes is increasing at an alarming rate, hope has been found
(PRWEB) January 20, 2018
Within the pages of Dr. Stephan R. Myers's new book, Type 2 Diabetes: New Doorways to Health, readers will find a useful and accessible guide to the disease. Complete with true patient stories and helpful illustrations, Dr. Myers shares his years of knowledge in language that is easy to understand so that everyone—even those without a medical background—can learn about the procedures available to place diabetes into remission.
Dr. Myers has performed more than 2,000 bariatric surgeries, helping these patients through a difficult time in their lives and helping them take control of their health. With his medical knowledge and wisdom, his patients avoid heart disease, blindness, and amputation. He changed his patients' lives for the better forever, and now he has compiled that wisdom into a book so that everyone can access it.
"In an era when diabetes is increasing at an alarming rate, hope has been found," states the author. "New research has discovered how bariatric surgery reverses type 2 diabetes when treated within the first 10 years after diagnosis."
About the Author
Dr. Myers is certified by the American Board of Surgery and serves as the Medical Director of the Weight Management Center and bariatric at the Tower Health System, Reading, PA. Dr. Myers resides in Sinking Spring, Pennsylvania. Dr. Myers has written numerous articles and medical white papers, but this is his debut book. To contact the author or learn more about his work, email DrSteve(at)DrSteveMyers(dot)com or visit DrSteveMyers.com.