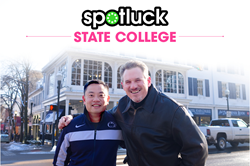 Spotluck embodies the spirit of a community, which is what State College is all about. WE ARE so excited to feature local restaurants to visitors and locals alike
BETHESDA, Md. (PRWEB) January 19, 2018
Dining out in State College just became more fun and less expensive. Spotluck, the revolutionary discount dining app, debuts in State College on January 19th. Spotluck only works with locally-owned restaurants, and offers savings from 10% - 35% off your bill at over a dozen spots. State College marks the latest stop in Spotluck's rapid East Coast expansion. Spotluck already has hundreds of restaurants in Philadelphia and other Central Pennsylvania towns, such as Williamsport and Scranton.
Tom Nguyen and Adam Corson, both Penn State alumni, are spearheading the launch of State College for Spotluck. Nguyen ('04) is the Director of Marketing and one of the founding members of Spotluck. "Spotluck embodies the spirit of a community, which is what State College is all about. WE ARE so excited to feature local restaurants to visitors and locals alike," says Nguyen.
Corson ('96), a State College resident and local PGA pro adds, "I am so proud to bring Spotluck to my hometown and help local restaurants compete with the multitude of big chains in the area. I am certain both diners and restaurants will embrace this innovative app."
In State College, participating locations include The Tavern, Allen Street Grill, The Corner Room, Bill Pickle's Tap Room, Baby's Burgers & Shakes, Federal Taphouse, My My Chicken, Faccia Luna, Luna 2 Woodgrill and Bar, PJ Harrigan's, Home D Pizzeria, Zeno's Pub, and Chumley's.
Spotluck first launched in 2014 and now partners with nearly 1,500 local restaurants in and around Pennsylvania, Maryland, Washington, D.C., Virginia, Delaware, New Jersey and New York.
About Spotluck
Spotluck brings dynamic pricing to the restaurant industry with a gamified spin. Spotluck pioneered real-time discounts that fluctuate based on day, time, weather and other factors that impact restaurant occupancy. Their software yields higher discounts on rainy Mondays and lower discounts on sunny weekends. Spotluck's gamified spin on deciding where to eat makes the app fun for users, while its proprietary software maximizes occupancy (and profits) for local restaurants through smart discounts that change.
Spotluck is currently ranked as a top "dining" app on the iTunes App Store. The app is free for consumers and available on both iOS and Android. More information can be found on http://www.spotluck.com.