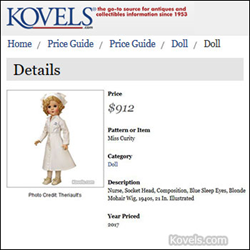 CLEVELAND (PRWEB) January 19, 2018
The online price guide at Kovels.com has just gotten bigger with the addition of more than 25,000 prices and 2,500 color photos of antiques and collectibles. Prices are current, from sales at shops, shows, flea markets, auctions, online sales, dealers and other sources. They are all double-checked for accuracy by Kovels' experts using their own AccuValue™ system and range from $2 to $1,066,000.
You can find almost anything among the Kovels' added prices and pictures. Rare "treasures" include a c.1910 Tiffany lamp with an Oriental Poppy shade that auctioned for $1,066,000, a suit of armor for $78,400, and a wooden telephone booth with glass folding doors that brought $400. There was even a door with windows and bars from a Chicago Police paddy wagon that sold for $840 and another door with an iron box lock used for solitary confinement at a Pennsylvania prison for $266. Smaller, quirky items include a candy wrapper promoting the 1876 campaign of Tilden and Hendricks that sold for $448, two milk bottle caps that read "Pure Fresh Milk" and "Wash & Return Bottles Daily" for $2, and a Mickey Mouse stickpin for $115. Other listings reflect increased collector interest in Pyrex cookware and clothing, glass, ceramics and furniture from the 1950s to 2000, as well as significant single collector auctions of dolls, Victorian glass, leaded glass lamps, and toothpick holders.
Two generations of Kovels edit the content, so Kovels' online price guide lists pieces made from the 1700s to as recently as 2000. Like the book, Kovels' Antiques & Collectibles Price Guide, the Kovels.com online price guide is organized into more than 750 categories that represent the most popular collecting interests. Category descriptions include information on makers, history, age and marks. All this useful information helps collectors to accurately price collectibles and identify market trends and serves as a guide for buying, selling, appraising or settling an inheritance.
Terry Kovel is America's foremost authority on antiques and collectibles. She is the well-known columnist and author of more than 100 books on antiques and collecting. The 2018 / 50th anniversary edition of Kovels' Antiques & Collectibles Price Guide is currently available at Kovelsonlinestore.com and local bookstores. Terry Kovel will discuss antiques and collectibles topics with accredited media. Photographs are available. Contact pr(at)kovels(dot)com.
About Kovels.com
Kovels.com, created by Terry Kovel and her daughter, Kim Kovel, provides collectors and researchers with up-to-date and accurate information on antiques and collectibles. The company was founded in 1953 by Terry Kovel and her late husband, Ralph. Since then, the Kovels have written some of America's most popular books and articles about antiques, including the best-selling annual Kovels' Antiques & Collectibles Price Guide. The website, Kovels.com, online since 1998, offers more than a million free prices, and includes a free weekly email, "Kovels Komments." It gives readers a bird's-eye view of the market through the latest news, auction reports, a Marks Dictionary, readers' questions and answers and much more.
Contact Information:
Liz Lillis
216.752.2252
Pr(at)kovels(dot)com