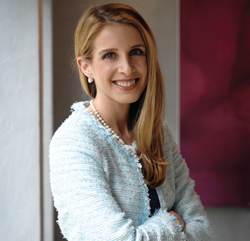 I'm thrilled to be a finalist and will be a strong contributor to the PMA if I'm chosen for the Board of Directors.
AUSTIN, Texas (PRWEB) January 23, 2018
Wickfire, a leading digital marketing company that focuses on affiliate search marketing, is pleased to announce that Chief Strategy Officer, Katy Atlas, has been named as one of the finalists for the Performance Marketing Association's Board of Directors. The Performance Marketing Association (PMA) shortlisted ten finalists for its Board of Directors' 2018-2019 term.
The PMA is a non-profit trade association dedicated to promoting the growth of the performance marketing industry, guiding best practices within the industry, and advocating on behalf of the businesses in the performance marketing industry. Performance marketing is a multi-billion dollar advertising channel that allows for low-risk, high-yield advertising where advertisers only pay for results. Performance marketers are committed to providing trackable results for their clients thanks to better alignment of incentives and more nimble methods.
"I'm thrilled to be a finalist and will be a strong contributor to the PMA if I'm chosen for the Board of Directors," said Katy Atlas responding to the announcement. "Before becoming Wickfire's Chief Strategy Officer, I spent a decade as a corporate attorney, so I'm well versed in legal compliance and regulatory issues. I'm extremely excited about the initiatives that the PMA has taken to encourage best practices in performance marketing and to build a spirit of community among the leaders in our industry. I'm honored to be part of this community and want to do whatever I can to help this industry grow and mature over the next two years."
Given her experience and success in the industry, Katy Atlas is the right choice for the PMA Board of Directors. Prior to joining Wickfire, Katy spent ten years as a corporate litigator with a focus on media and advertising law. She has been recognized three times as a Super Lawyers Rising Star, an honor that is awarded to the top 2.5% of attorneys under 40 in each state.
Additionally, Katy was outside counsel in the groundbreaking Wickfire litigation, where she helped procure Wickfire's $2.3 million trial win. Katy also has in-depth experience analyzing compliance and regulatory issues in the online advertising space. Under Katy's leadership, Wickfire's affiliate partnerships has grown to more than 2,000 advertiser clients and over $200 million in referred sales. More information about all of the named finalists can be found here.
About Wickfire LLC:
Founded in 2011, Wickfire is a digital marketing company focused on affiliate search marketing. By working with partners on the pay-for-performance model, Wickfire delivers cost-effective, high-quality advertising with an added benefit to its partners, which is: They only pay for results. This creates a win-win situation where Wickfire succeeds only by adding value to a brand's digital marketing efforts.