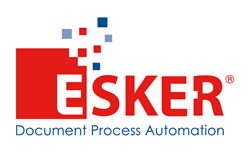 Its ease of use, simplified IT infrastructure and maintenance meant little user training and a rapid go-live.
MIDDLETON, Wis. (PRWEB) January 23, 2018
Esker, a worldwide leader in document process automation solutions and pioneer in cloud computing, today announced it is working with Orientis Gourmet, owner of premium tea brands Kusmi Tea and Løv Organic, to automate an annual volume of 12,000 non-purchase order supplier invoices in France. Esker's Accounts Payable automation solution has enabled Orientis Gourmet to modernize its accounting process to be more reliable and transparent.
Present in 30 countries, Orientis Gourmet manages its accounting centrally in Le Havre, France, where 12 employees process all supplier invoices — 95 percent of which are received in paper format. Despite a 15 percent annual growth rate, the company continued to manually process documents. This resulted in lost time and efficiency, particularly regarding its international activity. Additionally, poor invoice traceability, lack of visibility in the approval workflow and late payments led to a decline in supplier relationships.
Having already automated its order management process, Orientis Gourmet wanted to extend the digital transformation to its financial department and automate its accounts payable (AP) process.
"We were looking for a solution that would quickly and efficiently automate our AP process and Esker met this need," said Bruno Contrepoids, IT director at Orientis group. "We also wanted to involve our suppliers in the process to ensure successful implementation and reduce the risk of late payments."
Seamless ERP integration
Prior to Esker, invoices were booked at the end of the validation workflow. Now, thanks to seamless enterprise resource planning (ERP) integration, accounting entries are created and processed as soon as an invoice arrives in the Esker solution. Once the invoice is integrated into Orientis Gourmet's Cegid ERP system, the validation process is automatically launched according to the rules and predefined criteria.
"It was key that the AP solution work with Cegid and provide end-to-end process automation up until the accounting entry," said Contrepoids. "Additionally, a cloud-based solution was a prerequisite — its ease of use, simplified IT infrastructure and maintenance meant little user training and a rapid go-live."
Benefits of AP automation
Since implementation, Orientis Gourmet has experienced many benefits, including:

Faster and more transparent processing thanks to an automated approval process; the AP department can now issue selective reminders on unapproved invoices and approve invoices on an ongoing basis, whereas several reminders were previously required
Real-time accounting in Cegid provides an overview of invoices received, in progress or pending
• Increased visibility and autonomy for all stakeholders via customizable dashboards and KPIs

Improved supplier relationships thanks to on-time payments and a convenient web portal providing suppliers with real-time visibility on outstanding invoices and payments
Higher staff job satisfaction with staff redeployed to more value-added tasks
Compliance with legal requirements for archiving
About Orientis Gourmet
Based in Paris, Orientis Gourmet is the leading French supplier of premium tea and infusions. The company's teas and infusions are mixed, aromatized and packed in its workshops in Le Havre. Orientis Gourmet's products are sold primarily under the brands Kusmi Tea and Løv Organic in 35 countries around the world through a network of 100 owned and franchised stores, department and gourmet stores, as well as online. The company achieved 72 million euros in sales revenue in 2016 (30 percent internationally) and employs over 650 people, 70 percent of whom are women. In 2017, Orientis Gourmet collaborated with Evian to create an unsweetened tea made with mineral water, Evian Infused x Kusmi. In October 2017, Kusmi Tea launched its first white tea in partnership with Alain Ducasse. The company has been owned by Orientis, led by Sylvain Orebi, Claude Orebi and Arnaud Fleury since 2001.
About Esker
Esker is a worldwide leader in cloud-based document process automation software. Esker solutions, including the acquisition of the TermSync accounts receivable solution in 2015, help organizations of all sizes to improve efficiencies, accuracy, visibility and costs associated with business processes. Esker provides on-demand and on-premises software to automate accounts payable, order processing, accounts receivable, purchasing and more.
Founded in 1985, Esker operates in North America, Latin America, Europe and Asia Pacific with global headquarters in Lyon, France and U.S. headquarters in Madison, Wisconsin. In 2017, Esker generated 76.1 million euros in total sales revenue. For more information on Esker and its solutions, visit http://www.esker.com. Follow Esker on Twitter @EskerInc and join the conversation on the Esker blog at blog.esker.com.