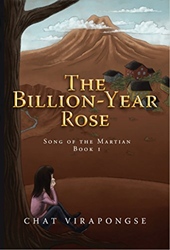 " I wanted a story that is so realistic that the reader would feel transported to the time period 2170 AD, when a number of events occurred which shaped the course of humanity: the mechanization of humans."
(PRWEB) January 23, 2018
"The Billion-Year Rose" by Chat Virapongse has everything that science fiction readers are looking for. It is fast-paced, page-turning and full of twist and turns that make it memorably unpredictable.
The year 2170 is a pivotal time in human history. After about 150 years of colonization, Mars has grown into a highly advanced technological civilization, due to an unprecedented explosion of young Martian prodigies. One such prodigy is teenager, Alex Wilcox, who invented the all-potent antimatter power source. She also developed humanoid robots, which are heralded on Mars for pushing forward human evolution.
Having finally succeeded in reaching self-sufficiency, Mars' government now seeks independence from Earth. When Cassandra Wilcox is sent to Earth as Mars' ambassador, Alex travels along with her mother and their two companions, Rem and Rom, for the chance to see Earth's wonders with her own eyes, and to investigate a strange commission from Earth for humanoid robots.
What the Martian group did not anticipate was how embroiled they would become in Earth's politics and penchant for violence. Despite this, Alex discovers love and the beauty of nature, inspiring her to challenge the physical and natural boundaries of life itself.
The Billion-Year Rose author Chat Virapongse is a neuroradiologist previously practicing in Lakeland, Florida. He has recently made a career move to write science fiction. He is the father of two daughters and a son. He currently lives in Lakeland with his wife and son.
This science-fiction novel is the first book in a series by Chat Virapongse. Get it here http://amzn.to/2mv1bZy.