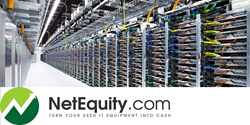 LEWISTO, N.Y. (PRWEB) January 25, 2018
NetEquity.com, a leading commercial buyer, refurbisher and reseller of IT and networking hardware, offers value driven IT Asset Disposition services to companies nationwide. Formerly CiscoBuy.com, NetEquity.com has an improved web presence along with an expanded OEM product line portfolio now including Cisco, Adtran, Brocade, Dell, HPE, Juniper, Polycom and Fortinet. NetEquity purchases Used, Excess Inventory or End of Lifecycle devices including network routers, switches, firewall/VPN devices, wireless, security and IP telephony hardware.
Expertise
Unlike many companies who purchase IT/Networking equipment, NetEquity staff are subject matter and market experts when it comes to secondary market enterprise IT products. When you sell used IT and networking equipment with NetEquity.com, you are working with knowledgeable, honest, efficient and reliable industry professionals with over a decade of market experience. NetEquity.com is committed to honest and fair dealings with all of their clients, and strives to provide the highest possible level of customer service and transparency. NetEquity buyer agents have up-to-the-minute, expert knowledge of current market value for Cisco, HPE, Juniper and other networking products.
Efficiency
Headquartered in upstate NY, NetEquity offers fair market value purchase pricing on used or excess technology equipment, de-installation, shipping and logistics oversight, audit and testing, equipment repair, re-marketing and other services. NetEquity ensures safe transport of valuable equipment by providing customers with the necessary packing materials such as commercial shipping boxes, anti static bubble wrap, pallets and other supplies to eliminate shipping damage or loss. Received equipment is generally audited, tested and paid within 2 business days of receipt. NetEquity can also provide complete serialization of inventory and proof of data destruction.
About NetEquity.com
NetEquity.com (formerly CiscoBuy.com) was founded in 2009 by CEO Cory Andrews, and is privately held. NetEquity is a member of UNEDA (United Networking Equipment Dealers Association), an alliance of more than 300 of the top used network equipment dealers worldwide who adhere to a strict code of ethics. Visit NetEquity at https://www.netequity.com.