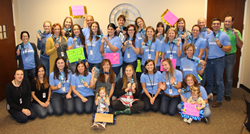 COVINGTON, La. (PRWEB) January 23, 2018
Gilsbar's wellness product has been recognized once again by the National Association for Business Resources as one of the Nation's Best and Brightest in Wellness® in 2017. The complete list of this year's winners is available at this link: https://101bestandbrightest.com/events/the-nations-best-and-brightest-in-wellness/winners/?winyear=118.
The Best and Brightest in Wellness® is a service organization of the National Association for Business Resources. This program is an innovative initiative recognizing and celebrating quality and excellence in health awareness programming. This unique designation highlights companies, schools, or organizations who promote a culture of wellness, as well as those who plan, implement, and evaluate efforts in employee wellness to make their business and the community a healthier place to live and work. Gilsbar was recognized for the services offered through our Wellness Program, which is engineered to help companies reach corporate benefit management goals, as well as long-term cost management objectives.
President of Gilsbar Health & Life Doug Layman noted, "The dedication our Wellness Program team members have for the work they do is inspiring. These employees are the Best and Brightest. We are proud of them and their efforts, and we appreciate them being recognized on a national level." Gilsbar continues our commitment to enhance business and improve lives, a mission which is only enhanced by this recognition.
About Gilsbar, LLC
Established in 1959, Gilsbar, LLC® is one of the largest privately-held insurance services organizations in the country. Recognized as a catalyst for creating healthy businesses, Gilsbar, LLC® offers self-funded and fully-insured benefit plan management services, along with Wellness, Advocacy, and overall Population Health Management. Gilsbar, LLC's integrated delivery model improves the health and well-being of its members, resulting in significant health plan savings for its clients.
Gilsbar, LLC® has been honored by Inc. magazine for its sustained growth, Modern Healthcare and Business Insurance magazines as a Best Place to Work, and WELCOA and the American Heart Association for its proven wellness methodology.
For more information, visit http://www.Gilsbar.com.