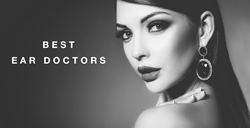 Our list includes Beverly Hills doctors with years of training and hands-on experience that will give patients the confidence they need that they made the correct decision when choosing a surgeon. - Cosmetic Town Senior Editor
BEVERLY HILLS, Calif. (PRWEB) January 19, 2018
Cosmetic Town, a Los Angeles based online plastic surgery and information community, is helping patients looking to have ear surgery, also known as otoplasty, in Beverly Hills. They recently published a list of the "Best Ear Doctors in Beverly Hills" on their website.
According to the senior editor of Cosmetic Town, "Beverly Hills is one of the most popular destinations for plastic surgery and this includes ear surgery. Many patients that seek out ear surgeons are looking to correct protruding ears or they have been self-conscious about the appearance of their ears since childhood. The finals results of otoplasty are more than a changed appearance in the ears. It is also a change in the self-image of a person."
The senior editor went on to say, "The plastic surgery process starts by conducting research in order to find doctors that can deliver the desired results. The research includes making sure the doctor is experienced in performing the procedure of choice. Our list includes Beverly Hills doctors with years of training and hands-on experience that will give patients the confidence they need that they made the correct decision when choosing a surgeon."
When asked how the list of ear doctors was compiled, the senior editor shared the method used to choose the "Best Ear Doctors in Beverly Hills". He said, "Our staff used an intelligent algorithm to pick the doctors while making sure it focused on the field of cosmetic surgery. Also, extensive consumer research on patient satisfaction levels with the doctors on the list was performed. In addition, we take into account the number of articles the doctors write each year as part of their continuing efforts to educate the public."
The senior editor says none of the doctors on the list had any influence on being chosen by Cosmetic Town. He emphasized that "we do not accept any compensation from the doctors in order to be part of the lists. Our goal with the doctor lists is to make sure consumers can easily locate the doctors who specialize in patient satisfaction in Beverly Hills and surrounding cities like Hollywood and Los Angeles."
About Cosmetic Town
Cosmetic Town is an online cosmetic medicine publication that also features doctors who were endorsed and highly recommended by their peers. This reliable and streamlined database allows users to easily navigate the website and access the information they need with just a click of a button. Users can also stay informed and get the latest news on plastic surgery by reading the regularly updated news section. Visiting the forum page is also another way for users to stay engaged and keep each other up to date.