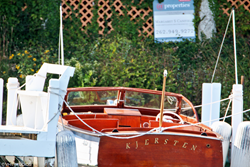 Lakefront homes are being sold and the pricing is not going down, but increasing with less inventory.
LAKE GENEVA, Wis. (PRWEB) January 19, 2018
Margaret Canfield, broker with @properties in Lake Geneva, WI, recently reported the market for lakefront homes in Lake Geneva is solid. "Lake Geneva is in Barron's top 20 second home investment markets in the U.S.," said Canfield, a full-time Lake Geneva Realtor who specializes in transitional real estate due to the proximity to Chicago and its suburbs.
In 2017 there were 32 home sales on the lake, with the average price being $2.5 million and a high of $7.4 million. Currently there are 22 properties on the lake for sale, and the average price is $3.655 million. "Lakefront homes are being sold and the pricing is not going down, but increasing with less inventory," noted Canfield. "That is the national real estate story also. If a buyer thinks they are going to wait for a 'correction,' that is not going to happen. There is only so much water frontage and so many homes."
For a seller, now is the time to get listed and on the market as the buying season is 24/7. Additionally, if one can purchase a property not directly on the water for under $1.5 million to $2 million with private lake rights, a pier and/or boat slip, it has tremendous value as the market trends upward.
"Listing and pending sales price is trending up as we move into the new year," concluded Canfield. "The bulk of single family sales off the lake is moving into the $500,000-$750,000 range with less homes on the market. Whether full-time or part-time, this area has a steady real estate market."
To view available Lake Geneva properties listed with Margaret Canfield, please click on this link.
About Margaret Canfield, @properties
Margaret Canfield specializes in the Lake Geneva market area condominiums and many styles of lake living. She is one of the top agents in Walworth County and a "Road to the Rolex Winner" with @properties for 2017. For more information, please call (262) 949-9272, or visit http://www.margaretcanfield.com. The office is located at 880 W. Main Street, Lake Geneva, WI 53147.
About the NALA™
The NALA offers small and medium-sized businesses effective ways to reach customers through new media. As a single-agency source, the NALA helps businesses flourish in their local community. The NALA's mission is to promote a business' relevant and newsworthy events and achievements, both online and through traditional media. The information and content in this article are not in conjunction with the views of the NALA. For media inquiries, please call 805.650.6121, ext. 361.