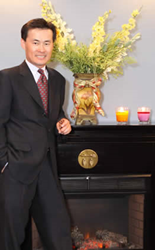 POMONA, Calif. (PRWEB) January 22, 2018
Board certified and nationally recognized periodontist, Dr. Jin Kim, now offers gentle laser gum disease treatment for patients with gingivitis in Pomona, CA, with or without a referral. Dr. Kim specializes in diagnosing and treating mild to severe gum disease and offers LANAP® laser gum therapy at his two practice locations in Garden Grove, CA and Diamond Bar, CA.
Gum disease is a common and potentially harmful, disease that affects the gum tissue of the mouth. The first stage of gum disease, gingivitis, is characterized by bleeding, swollen, and tender gums. In this stage, proper treatment can reverse symptoms and restore health back to the gums. If left to progress, gum disease continues to periodontitis and eventually the final stage of advanced periodontitis. Symptoms of advanced periodontitis include severely diseased gum tissue, loss of volume to the jaw bone, loose teeth, chronic bad breath, and in some cases, tooth loss. Research has also linked untreated gum disease to systemic health complications, including diabetes and stroke. Advanced stages of gum disease cannot be cured, but with proper, routine periodontal maintenance can be effectively controlled.
Gum disease can be treated with traditional osseous surgery or the more advanced and minimally invasive LANAP protocol. LANAP, or laser-assisted new attachment procedure, utilizes the precise wavelength of a laser beam to effectively target and destroy bacteria and diseased gum tissue from around the tooth roots without harming healthy tissue. Once the tooth roots have been thoroughly cleaned and the gum tissue cleansed, the laser is used again to form a healthy blood clot that encourages healing of the soft tissue and reattachment to the root surface. The LANAP protocol offers many benefits when compared with osseous surgery, including a less invasive and painful surgery, minimized post-operative bleeding and sensitivity, and improved healing and recovery time.
As an experienced and skilled periodontist, Dr. Kim specializes in treating gum disease with advanced and minimally invasive techniques like the LANAP protocol. Patients with symptoms of gingivitis in Pomona, CA, can turn to Dr. Kim for effective and gentle laser gum disease treatment. New patients can visit http://www.drjinkim.com to schedule a consultation.
About the Doctor
Dr. Jin Y. Kim is a periodontist dedicated to providing personalized dental care in Diamond Bar and Garden Grove, CA. Dr. Kim attended the University of Sydney Faculty of Dentistry before furthering his education with an advanced degree in pathology from the Medical School of the same University. Dr. Kim completed a periodontics and implant surgery residency at UCLA School of Dentistry and is board-certified by the American Board of Periodontology and the American Board of Oral Implantology/Implant Dentistry. He is a past president of the Western Society of Periodontology and was also inducted to be a Fellow of the prestigious American College of Dentists and earned Fellowships in the International Congress of Oral Implantologists and the American Academy of Implant Dentistry. Dr. Kim lectures and holds faculty positions at a number of universities including UCLA School of Dentistry and abroad. He has spoken at no less than 36 different countries across the globe as well as national and international academic and clinical associations and universities including the International Association of Dental Research, American Academy of Periodontology and Academy of Osseointegration. To learn more about Dr. Jin Kim and the services he offers, visit his website at http://www.drjinkim.com or call 909-860-9222 for the Diamond Bar location or 714-898-8757 for the West Garden Grove location to schedule an appointment.